Posted on
November 27th, 2011
by Jaimie Schock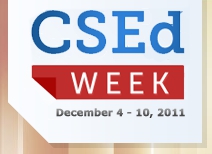 When: December 4-11, 2011
Computer science is everywhere. It lies at the heart of technologies that save lives, power search engines, track stock markets, and drive innovation.
Yet even as the need for computer scientists and engineers has grown, the teaching of computer science has fallen dramatically. According to the Joint Economic Committee of Congress, more than 140,000 computer science jobs become available each year, but fewer than 40,000 people graduate each year with bachelor's degrees in the subject. The decline of computer science education in K-12 schools is even steeper. The Computer Science Education Week was created to help reverse that trend and to push for improving computing curricula and opportunities for teacher professional development.
CSEdWeek 2011 celebrates the impact of computing and the need for computer science education. The week incorporates different events across the U.S. and Canada, as well as teacher resources and a host of other materials for students, teachers, parents and community members, administrators and counselors, college and university representatives, and companies and corporate professionals.
This year's "Call to Action" falls on Dec. 4 -11, 2011. It honors the Dec. 9 birthday of Navy Admiral Grace Murray Hopper, a computing pioneer whose accomplishments include creating one of the first programming languages and discovering the world's first computer "bug."
Activities include a computer science YouTube ad contest for students, app boot camps, and more. Some events for teachers include:
12/06/11 2:30 p.m.
The EECS department, UC Berkeley, will celebrate Computer Science Education Week with a special one-day program for local high school teachers and their students on Tuesday, December 6, 2011. Faculty, current students and staff in UC Berkeley's computer science community have planned very exciting activities, to inform and inspire all… Read more
12/08/11 8:00 p.m. – 9:00 p.m.
Students in grades 6-12 will showcase projects they have created. Parents in the community will share about their careers in computer science. Former alums will share You-Tube videos of what they are doing now and how a CS background has helped them. The Robotics Club will demonstrate programmable robots in… Read more
12/05/11 6:00 p.m. – 7:30 p.m.
Mifflin County High School's FIRST FTC, FLL, jrFLL, Programming students, and Web Design students are going to setup a showcase/demonstration of how we are using technology both in the class and in our STEM club. Read more
12/05/11 8:00 a.m. – 12/09/11 3:00 a.m.
Upper level high school students have been creating some AWESOME interactive programs with Kinect. These students will showcase their work in a prominent, high traffic, location in the school. Passersby will be invited to interact with the programs and talk with the student creators about it. Messaging about "if you… Read more
For all events, click here.
Filed under: For Teachers, Grades 6-8, Grades 9-12, Grades K-5, K-12 Outreach Programs
Tags: Computer Engineering, Computer Programming, Computer Science, Events, Family events, Internet Resources, Teacher Resources, Teacher Training, Teaching Aids, Web Resources