Posted on
March 15th, 2016
by Mary Lord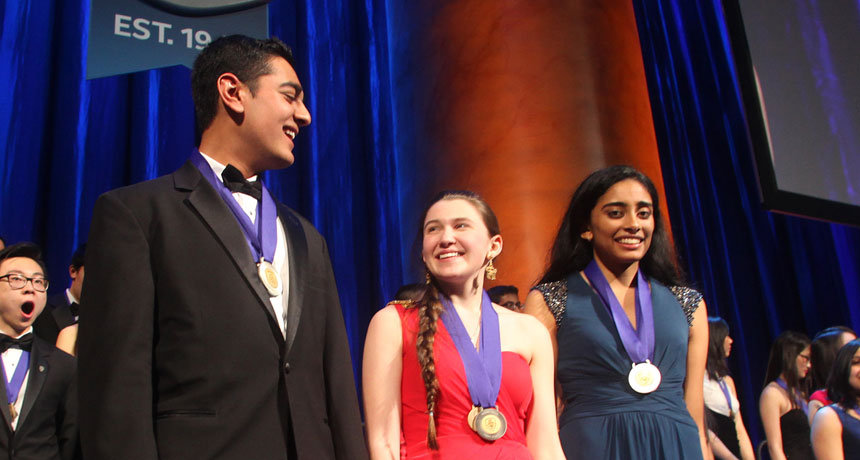 2016 Intel Science Talent Search top winners. From left: Amol Punjabi, Paige Brown and Maya Varma
Proving that age is no object, 40 high school students gathered at the National Geographic Society headquarters in Washington, D.C., this March to show the world that homework doesn't have to be boring.
They were finalists in Intel's Science Talent Search, a competition that seeks out the best and brightest young scientists across the nation on behalf of the Society for Science & the Public. This was a historic year for the competition: not only did it mark its 75th anniversary, but this was also the first year in which women dominated the competition. Two of the top prize winners women, as were more than half of the finalists!
Here are four outstanding engineers from the group of finalists:
First-Place Winner: Paige Brown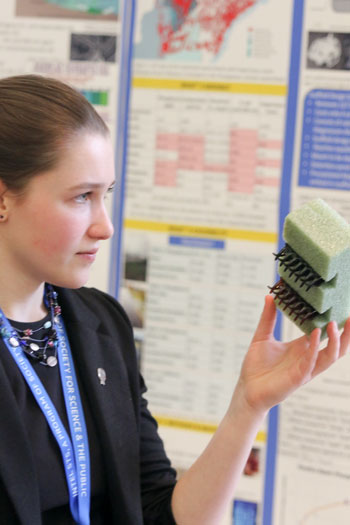 Rivers and streams are a muddy topic for Paige Brown, who used to play in them as a kid. "They always looked nice," she said. "I had no idea that they could be having pollution issues." When she tested them, however, she found alarmingly high levels of phosphorus or E. coli in six out of the seven. Brown is a 17-year-old senior at Bangor High School in Maine with ambitions of studying chemical engineering in college. She built low-cost scrubbing filters out of "dollar-store hair clips and floral foam," she said. Attached to these were tiny filaments. Her inspiration? Silly string. Her pollution scrubbing system won the First Place Medal of Distinction for Global Good, along with $150,000 and is currently going through the patent process. "I hope to have a patent by the time I graduate!" she said, adding that she plans to commercialize her cost-effective and efficient system soon.
First-Place Winner: Maya Varma  
Maya Varma's research provides a breath of fresh air for people who suffer from chronic lung diseases. Using skills in electrical engineering, coding, and 3D printing, she turned $35 of hobby supplies into an affordable and accurate diagnostic spirometer—a lung-testing machine that usually costs hundreds or thousands of dollars! She was inspired when a friend of hers went to the hospital for a severe asthma attack and now wants to provide her tool to low-income areas. Her spirometer won the First Place Medal of Distinction for Innovation, which celebrates students "who demonstrate the problem-solving aptitude of an engineer through innovative design and creativity" and includes a $150,000 cash prize. Varma is a 17-year-old senior at Presentation High School in California.
Augusta Uwamanzu-Nna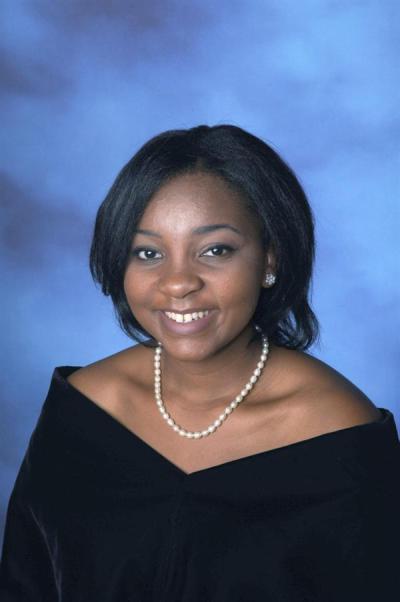 Cement is a serious thing. It forms our cities and holds critical structures in place. When the Deepwater Horizon underwater oil well broke, pouring millions of gallons of oil into the Gulf Coast, a weak cement mix was partially to blame. Augusta Uwamanzu-Nna, an 18-year-old senior and valedictorian at New York's Elmont Memorial High School, became interested in cement in tenth grade when she found out that its production greatly contributed to carbon emissions. Her project sought ways to use nanoclay ingredients to make stronger undersea oil wells, finding that a small addition of these ingredients greatly improved cement composition and strength.
Demetri Maxim 
Demetri Maxim is proof that if you have a problem, you have to solve it yourself. Maxim, along with other members of his family, suffers from polycystic kidney disease, a hereditary condition that causes growths on the kidneys. After watching his mother go through a life-saving kidney transplant when he was a child, Maxim started thinking about ways of replacing organs without to harvest them. His project finds ways of growing kidneys from scratch, using the patient's own skin cells and a 3D-printed scaffold. One day, he hopes his research will allow transplant patients to forego the anti-rejection drugs they have to take because the organs will come from their own cells. Maxim is an 18-year-old senior at Gould Academy in Maine.
Story reported and written by Jenn Pocock, American Society for Engineering Education assistant editor
Images courtesy Intel and Society for Science and the Public. Photo of Demetri Maxim by Intel/Kathy Wolfe
Filed under: Competitions and Contests, K-12 Education News
Tags: Competitions for Students, Intel Science Talent Search 2016, Society for Science & the Public, STEM education