Posted on
June 2nd, 2016
by Mary Lord
Results from America's first-ever test of K-12 technology and engineering skills, released in May, point to the power of hands-on, applied STEM learning to increase diversity and achievement.
The National Assessment of Educational Progress—often dubbed the "nation's report card"—found that girls scored higher on average than boys. And while suburban and rural students significantly outperformed their urban peers, the achievement gaps between race and income groups were much smaller than typically posted on national tests in other subjects, Education Week notes.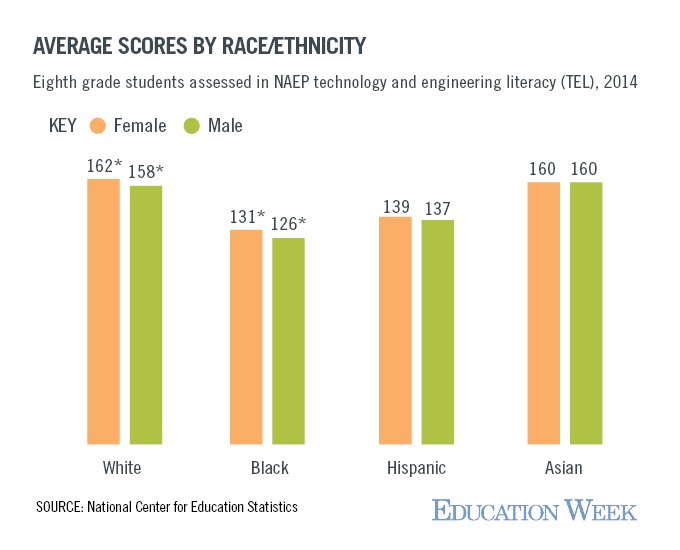 The NAEP Technology and Engineering Literacy exam, or TEL, also offers lessons in next-generation assessment of problem solving and critical thinking. Administered in 2014 to 21,500 8th graders in some 840 public and private schools around the country, NAEP's first totally online test eschewed multiple choice questions and essays. Instead, students developed solutions by working through virtual scenarios. (Explore sample tasks or view interactive examples, such as designing a toaster, of what students are asked to do.)
Overall, 45 percent of female students and 42 percent of their male counterparts scored proficient or advanced, setting the benchmark for the next TEL administration, scheduled for 2018. The girls not only performed better on information and communication technology but also met or outperformed the boys on questions about systems and design.
The 8th graders also were asked about informal learning, with 87 percent reporting they figured out why something was not working in order to fix it outside of their school work.
Filed under: Grades 6-8, Special Features
Tags: achievement gap, Education Policy, engineering literacy, girls in STEM, Grades 6-8, NAEP TEL, nation's report card, Public Policy, Research on Learning, STEM education