Posted on
June 3rd, 2016
by Jaimie Schock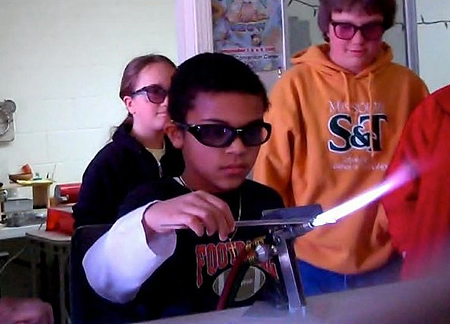 Annie Nash's classes may be labeled "visual arts," but they're much more. While mastering the use of cold, warm, and hot glass-working tools, her second to fifth grade students also learn chemistry, physics, the laws and sources of energy, optics, history, and the scientific method.
"I have always included science concepts in the art studio," says Nash, a 32-year teaching veteran at Manzano Day School in Albuquerque, N.M. and 2015 winner of a Voya Unsung Heroes award. "Art cannot be taught in a vacuum."
Nash began including glass-making in her classes in 2007. In 2010, she and her students received a $10,000 Toyota Tapestry grant for an in-depth 9- to 12-week program of classroom learning and field trips. This spring, eight of her students accepted awards from the International Children's Art Exhibition in Japan.
While the end result was art pieces, jewelry, and marbles created from 90 COE, 96 COE, and borosilciate glass, the 300 or more participants were guided at each stage by the scientific method, the process of observation, hypothesis, prediction, and experimentation that yields reliable knowledge.
As they acquire glass-making skills, such as operating a lamp-working torch to melt glass, students learn how scientists and artists use glass, the equipment and tools used, the elements involved in colored glass chemistry, glass compatibility, and the coefficient of thermal expansion, which shows how an object's size changes when its temperature changes.
They also study energy sources and energy transfer, conduct experiments on the chemistry and physics of color and optics, create hypotheses, collect data, analyze processes and outcomes, record their conclusions, and share results in class discussions and videos.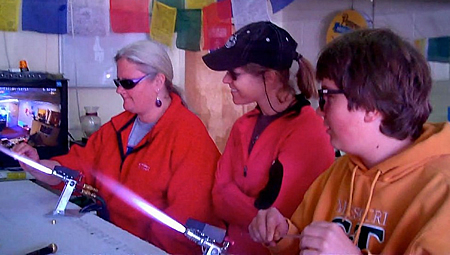 Besides glass-making tools, students also apply such technology as iPad applications for unit conversion, graphing, and chemical measurements, as well as high-definition cameras to film their progress.
Not a scientist herself, Nash expects to get support from a science coordinator and technology adviser. Classes also draw in outside experts, including S. Jill Glass, a noted glass scientist at nearby Sandia National Laboratory and the mother of two of Nash's students, who explained the properties that cause glass to shatter in certain circumstances.
Nash hopes the project will encourage students to pursue an interest in glass, which she calls "one of the most useful and inexpensive materials in the world." Perhaps more importantly, she hopes students will "learn the importance of wondering and investigating" along the way.
Originally published May 17, 2010, updated on June 3, 2016 
Filed under: Special Features
Tags: Glass, Glass engineering