Posted on
October 4th, 2017
by Mary Lord
"If you build it, he will come."
Ballparks have come a long way since that memorable line from the 1989 movie Field of Dreams prompted an Iowa farmer (Kevin Kostner) to carve a baseball diamond out of his corn field.
While civil engineers design ever-more spacious ballparks, electrical and computer engineers are helping stadiums harness the Internet of Things to reduce energy and other operational costs by 25 percent. New lightweight materials like EFTE allow for such innovations as a clear dome over the Minnesota Vikings new stadium, while the Miami Marlins ballpark was built to withstand hurricanes [National Geographic video] and audio-visual technology enhances the game-day experience. In a Bloomberg News interview, Joe Spear, founder of Populous, the world's leading stadium designer, notes some of his favorite features. Among them, San Francisco's viewing area where fans can watch the game for free – the only such venue in Major League Baseball.

Sports venues also have greater flexibility to add seating to accommodate blockbuster events. Denver's stadium, for example, can add up to 10,000 seats. In addition, many are more environmentally conscious: at Marlins Park, the first LEED Silver-rated stadium, some parking areas are outfitted with charging stations for electric vehicles. Then there's the 37,500 "living park," a futuristic ballpark that Sports Illustrated asked Populous to envision.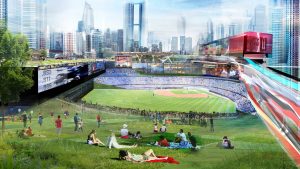 There's greater choice not only in dining options – from sushi in San Francisco to local legend Ben's Chili Bowl hotdogs in Washington, D.C. – but also in delivery. Cincinnati Reds rolled out the nation's first order-by-app kiosk in 2017, for example.
Engineers also help maintain ballparks. When the Baltimore Orioles needed to fix broken three-piece hinges on some 9,000 padded, field-level seats among the 45,971 seats at Camden Yards, the team turned to Maryland mechanical engineering graduate Todd Blatt and his 3D printing company, reports Shapeways magazine. The seat's manufacturer had sold their product line to another firm, which didn't make the replacement brackets.  Blatt measured the sample hinge with calipers, modeled it in AutoCAD, and created a way for the Orioles to order 3-D printed replacements as needed.
Bricks, mortar, and clicks aren't the only ways engineers are improving ballparks. Duke University's Missy Cummings, a professor of mechanical engineering and materials science, recently received a three-year, $750,000 grant from the National Science Foundation to develop inexpensive, passive ways to shoo drones away from ballparks and other public spaces. Her team at the Humans and Autonomy Laboratory, where she is director, got the idea from their work using drones to monitor elephants in African sanctuaries – and discovering that the noise "really bothered" the pachyderms.
Call it an example of life imitating art, but the Duke researchers are working with the local minor league team – the Durham Bulls – to test their solutions. Kevin Kostner fans will remember his starring role as the veteran catcher of that team in the 1988 smash, Bull Durham. 
Filed under: Special Features
Tags: ballpark, baseball, Civil Engineering, Electrical Engineering, fields, Sports Engineering, stadium, Technology