Posted on
June 21st, 2010
by Jaimie Schock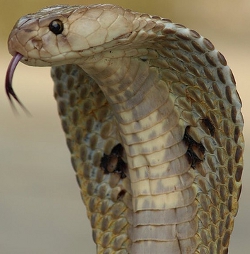 There aren't too many high schoolers who carry out a chemistry experiment that might save lives.
Samantha Piszkiewicz and Nicolai Doreng-Stearns, however, did just that. Leading a five-student team at Laguna Beach High School in California, they developed a synthetic antivenom for the treatment of poisonous snakebites.
The project began in December 2008 as part of the school's Advanced Chemistry Research (ACR) program run by chemistry instructor Steve Sogo. Piszkiewicz, then a junior, wanted a project that would draw on her keen interest in snakes. Classmate Doreng-Stearns teamed up with her in the summer of 2009.
Sogo put the students in touch with post-doctoral researcher Yu Hoshino and Professor Ken Shea of the University of California-Irvine (UCI), who are working on nanoparticles to combat bee sting toxins. That conversation inspired the Laguna Beach students to try to adapt the UCI researchers' synthetic anti-venom process to snake bites. As their work progressed, Piszkiewicz stayed in contact with Hoshino and shared the ongoing experiment's results with him during several visits to the UCI lab, where he and Shea conduct their research.
The students employed a technique called "molecular imprinting," which starts with polymerization. To make a polymer, the students must choose small molecules, or "monomers," that can be triggered to bond to each other. Once the trigger is activated, the small molecules create much larger structures (polymers). The students' polymers form roughly spherical particles.
The process of imprinting a polymer starts with a solution of a molecule that the chemist wants to "grab." Then, the monomers are added to the solution, forming loose associations with the target molecule. When polymerization is triggered, the polymer forms around the target molecule. When the target molecule is subsequently washed away, the polymer has perfectly shaped and sized cavities to bind with the original target molecule: in this case, cobra venom.
The polymer nanoparticles surround the cobra toxins so that the key structures on the toxins that attack cells are no longer able to reach them.
By the time Piszkiewicz and Doreng-Stearns graduated from Laguna Beach in June, 2010, the polymer nanoparticles their team had created were showing results. They were able to neutralize at least 95% of the destructive activity of cobra toxins when assayed using red blood cells in vitro. The anti-venon has not yet been tested in the human body.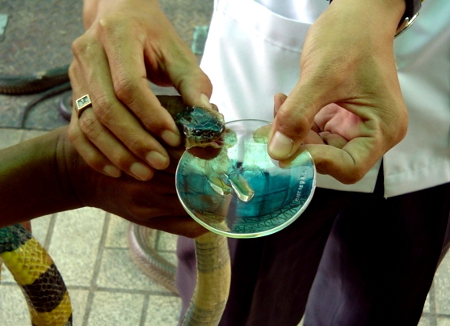 The cobra antivenom project helped the ACR program win $10,000 in funding from Toyota Tapestry this year. A second ACR sudent project cited by the judges involves trying to destroy environmental pollutants by using TAML® (tetra-amido macrocyclic ligand) catalysts invented at Carnegie Mellon University's Institute for Green Science.
Sogo, a 20-year teaching veteran, regularly works with professors from UCI, Carnegie Mellon, and the University of California-San Diego to help guide ACR students, who number just under 30 per year. "My dream is that one of my former students will fill my shoes after I retire (in 2025 or thereabouts), continuing the ACR tradition indefinitely." Moreover, he says, "So far, I haven't had any shortage of ideas for research projects."
Samantha Piszkiewicz plans to attend California Polytechnic Institute in the fall, with an intended major in biology. Nicolai Doreng-Stearns is going to the University of California-Berkeley, with a major in either chemistry or chemical engineering. The cobra toxin project will be passed on to new and eager chemistry students next school year.
Filed under: Special Features
Tags: Biomedical Engineering, Chemical Engineering, Chemistry, Nanotechnology