Posted on
June 21st, 2010
by Jaimie Schock
Among many approaches, British Petroleum is using a series of chemical dispersants to combat the massive oil spill in the Gulf of Mexico. Dispersants are solutions of solvents and other chemicals that break up the surface tension of an oil slick and make oil more water-soluble. The specific chemical compositions being used were kept under wraps as a trade secret for more than a month after the cleanup began, according to the Greenwire news service.
On June 9, at the behest of environmental organizations, Congress, and news outlets, the Environmental Protection Agency released information about the contents of these chemicals. Two of the chemicals are called Corexit 9500 and 9527, the latter of which "is designated a chronic and acute health hazard by EPA," Greenwire reported.
Corexit and other dispersants do not remove oil from the ocean; they break it into smaller pieces and force it to sink or remain suspended in deep water. Dispersed oil spreads quickly and is more easily dissipated by waves and turbulence that break it up further and help many of its most toxic hydrocarbons evaporate.
That oil, however, can also collect on the sea floor, where coral are generally not affected, according to a 2005 National Academy of Sciences report, but microscopic organisms at the bottom of the food chain eat it, and thus the shellfish and other organisms that eat them show high amounts of it. Evaporation of the dispersant can also concentrate the toxic compounds left behind, especially oil-derived compounds called polycyclic aromatic hydrocarbons (PAHs).
The 1989 Exxon Valdez oil spill was treated with a more toxic version of Corexit, which contains 2-butoxyethanol, a chemical that has been linked to illness and death, say the Academy of Sciences report and ProPublica. According to ScienceRay.com and other sources, the variety of health problems that 2-butoxyethanol and Corexit may cause include "respiratory [problems], nervous system [illnesses], liver disorders, kidney disorders, blood disorders, headaches, vomiting, and reproductive problems."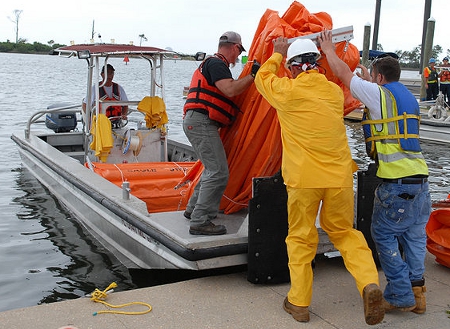 The Academy of Sciences report found that dispersants and the oil they leave behind can kill fish and that PAHs accumulated in mussels when dispersants were used in Coos Bay, Ore. Another study found that PAHs from Exxon Valdez dispersant use affected heart development in Pacific herring and pink salmon embryos.
"There is a chemical toxicity to the dispersant compound that in many ways is worse than oil," Richard Charter, an expert on marine biology and oil spills, senior policy advisor for Marine Programs for Defenders of Wildlife, and chairman of the Gulf of the Farallones National Marine Sanctuary Advisory Council, told ProPublica. "It's a trade-off – you're damned if you do, damned if you don't — of trying to minimize the damage coming to shore, but in so doing you may be more seriously damaging the ecosystem offshore."
Filed under: K-12 Education News, Web Resources
Tags: Chemical, Environmental Protection Agency, Environmental science, Ocean, Ocean science