Posted on
February 14th, 2011
by Jaimie Schock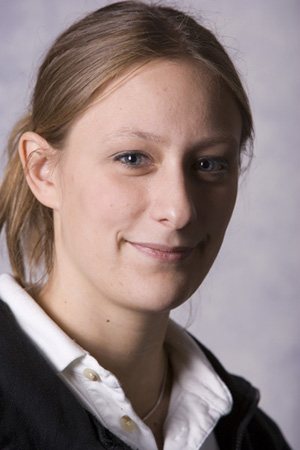 Software engineer Sarah Blow enlists other female techies in events to promote engineering girl power. — A profile from the December 2010 issue of Prism magazine by Thomas K. Grose.
Dinner, IT, and the Y Chromosome
London — Five years ago, while working for a healthcare company, software engineer Sarah Blow joined a male colleague at a networking dinner for techies. Like other similar events she had attended, it was an overwhelmingly male affair. She was mostly ignored until one of the men turned to her and asked bluntly, "Why are you here?" But when Blow's colleague was posed a question abut programming, he replied, "I'll let Sarah answer that." Joining the conversation, she then made a point of displaying the binary watch on her arm. The penny dropped, as the table of geeks suddenly realized she was one of them. "They all went completely white," Blow recounts, with a chuckle.
The next day, Blow blogged about the episode, making the suggestion that women techies stage their own events. The idea elicited so many encouraging comments that Blow decided to go for it. Thus was born Girl Geek Dinners, a networking organization for women in technology that's since gone global.
Blow's concept for the ladies' events was simple. Only women were invited, and men could attend only if accompanied by a female. The first Girl Geek Dinner attracted 35 people, of whom six were male. "That was good enough to get us started," Blow recalls. One attendee worked for Microsoft, and the company subsequently contacted Blow with the proposal that it sponsor future events. Most are now sponsored by companies such as Microsoft, Google, and eBay. Sue Haber, diversity and inclusiveness manager for Google's European operations, has praised Blow for raising the profile of women in an industry that's still male dominated and for "generating a buzz." Diversity is important to Google, "so Girl Geek Dinners was a good fit for us," says Haber. The Internet giant has sponsored Geek dinners in cities from Amsterdam to Sydney and San Francisco.
Read more from the Prism article here.
Filed under: Special Features
Tags: Events, Minority Group Engineers, Prism, Prism article, Women in Engineering, Women in Science