Posted on
February 14th, 2011
by ASEE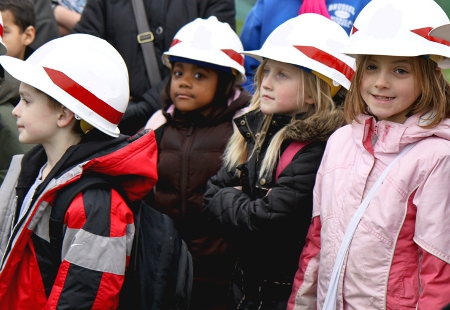 Young students at an engineering event
The annual Engineers Week is the cornerstone program of the National Engineers Week Foundation, which strives to be the global leader in cultivating and celebrating the engineering profession.
All programs are designed to reach out to current and future generations of engineering talent. The Foundation says, "We respect the value each coalition partner brings while recognizing that to prepare for the future we must work together because none of us is as strong as all of us."
National Engineers Week Foundation coalition members, with the support of engineering firms and agencies, represent a significant segment of this volunteer force. Last year, to help celebrate the 60th anniversary of Engineers Week, the Foundation gave special recognition to engineer volunteers! The 2012 theme is based on the the world's projected population of 7 billion people and how engineers can help realize their dreams. The site includes tips for energizing local volunteers; events such as Introduce a Girl to Engineering Day on Feb. 23 and the Future City contest;  suggestions for outreach opportunities; and much more.
The 2012 Engineers Week is February 19-25.
Filed under: For Teachers, Grades 6-8, Grades 9-12, Grades K-5, K-12 Outreach Programs, Web Resources
Tags: Events, Organizations, Outreach