Posted on
April 19th, 2010
by ASEE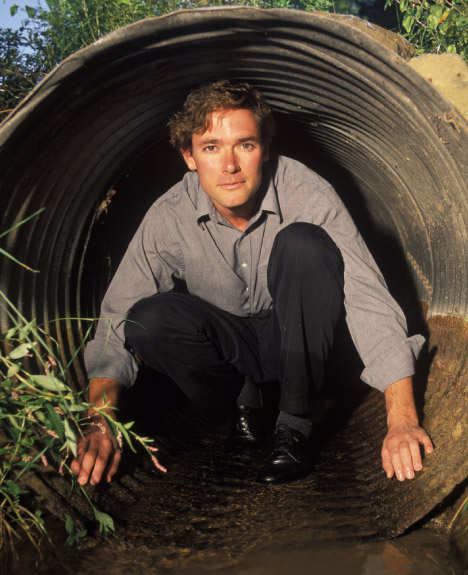 First, Marc Edwards discovered high levels of lead in Washington D.C.'s drinking water, then he had to persuade the bureaucracy to get the word out — an article from ASEE's Prism magazine, by Pierre Holme-Douglas
It was a problem that had baffled civil engineer Marc Edwards for a decade. By the time the Virginia Tech professor finally figured out the answer, he had stumbled across a health issue that ended up pitting him against the Environmental Protection Agency (EPA) and the utility that supplies Washington, D.C., with its drinking water. The resulting battle and stress affected his health, but Edwards persevered and was finally vindicated, assisted by three graduate students he credits with helping him through the ordeal.
Edwards is one of the world's leading experts in water corrosion in home plumbing. In the mid-90s he started getting calls from homeowners across America who had problems with pinhole leaks in their home plumbing systems. Edwards points out that plumbing may sound like a trivial asset in the grand scheme of things, but the value of pipes in all the buildings in America adds up to more than a trillion dollars.
One pinhole leak in a home isn't so bad, Edwards says, but once you have two, plumbers and insurers usually recommend replacing the plumbing, figuring that other leaks are bound to happen. That's typically a $2,000 to $6,000 investment. If those leaks cause mold problems inside the walls, the home's resale value could plummet. The problem was, Edwards discovered, that no one wanted to take responsibility for the problem. "Homeowners were basically left to fend for themselves," he says. "The historical mentality of the water industry is that its problem ends at the street. Anything that happens beyond that, it'll help—but only to a certain extent, arguing that water may not be the cause. Some of the homeowners I dealt with literally lost their homes."
Edwards finally identified the culprit that had caused the lead leaching: chloramine. Made from chlorine and ammonia, the chemical had replaced chlorine as the disinfectant for drinking water in Washington, D.C., starting in March 2000. "I had read papers on the effect of chloramines on lead, and found that 50 years ago people noted some serious corrosion issues for brass, an alloy of copper, lead, and zinc," Edwards says. He adds that chloramine leachs lead not only out of lead pipes but even from so-called lead-free brass (which actually contains 8 percent lead) and lead-containing solder used to join copper tubes before it was banned in 1986.
The EPA and WASA were reluctant to accept this hypothesis until the water utility switched back to using chlorine for a regular cleanup of its pipes in April. The lead levels immediately dropped. When it switched back to using chloramine in May, the levels rose dramatically. Finally, in June 2004, the EPA ruled that WASA had violated federal law by not properly notifying the public about unsafe levels of lead in the water. "The wheels of justice turn slowly," Edwards says, "but they do turn."
The whole experience has taught Edwards not only about the frustration of fighting bureaucracy but also something about the quality of today's engineering students. "You hear about the fact that North American students are so far behind their peers in some other countries, they don't have the same work ethic and they don't know this and they don't know that, but I will tell you that it almost brings tears to my eyes to think about the hours they invested and their commitment. It was really remarkable. You can't tell me that students of any era would have performed any better."
"At times," he adds, "I wanted to give up because I didn't have money and I was paying them piecemeal out of my own pocket, but they were so enthusiastic about working on something that would help consumers—something that was also new scientifically—I didn't have the heart to tell them we had to stop."
Edwards grew up near Buffalo, where he completed an undergraduate degree in biophysics at SUNY Buffalo. He then went to graduate school—in engineering. "I visited all kinds of programs and I had the best feel for the people in environmental engineering. I thought that this is an area where you can solve real problems that impact people's everyday lives." He completed a Ph.D. at the University of Washington in Seattle. Since then, he has worked as a consultant on corrosion problems with water authorities around the world, from Chile to Australia, from Korea to Germany. He joined Virginia Tech's department of civil and environmental engineering in 1997. Today, the 40-year-old teaches courses in water treatment. "The students are the best part of the job," he says. "It's great to work with young people who feel a deep sense of commitment, who are willing to sacrifice their time and effort to advance scientific understanding on behalf of the public." Edwards also serves as president of the Association of Environmental Engineering and Science Professors, which he says was very supportive during his battle with WASA and the EPA.
Edwards, his wife, and two pre-school children live in Blacksburg, Va., where he indulges his passion of growing exotic fruit and nut trees like pawpaws, kiwis, and persimmon. "Why I do it, I don't really know," he says with a chuckle. He finds the hobby fascinating even though he admits that it takes many years to see results. "Actually, it's a lot like research. You have to invest the years before you see the fruits of your labor. Some of the trees I planted take 10 years before there is even a hope of seeing results. He pauses for a couple of seconds. "Oddly, it took about the same time before we made any significant progress in understanding the problem of pinhole leaks in home plumbing."
Read the story as it originally appeared in Prism online
FOR MORE INFORMATION:
Filed under: Special Features
Tags: Clean Water, Environmental Engineering, Water management