Posted on
April 19th, 2010
by Jaimie Schock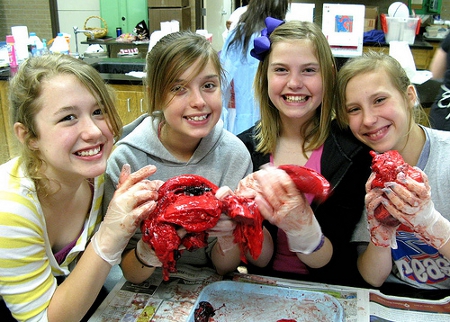 Is dissection essential to a high school biology class? That's a question lawmakers in Connecticut are grappling with, according to the Hartford Courant. A bill heading to the state senate floor would allow students to opt out of dissections if they raise conscientious objections. Thirteen other states have similar laws on the books.
As the Courant notes, this is not a new debate. Critics have long argued the procedure is outmoded and inhumane, while biology teachers have countered that it remains the most effective way to teach kids anatomy. But technology has freshened the debate. New computer software programs offer virtual dissections so realistic that they've convinced some teachers of their efficacy. Still, some teachers say that, as good as the virtual programs are, they don't fully pass muster. "Having your hands on a living thing is often what teaches people the love of biology. It draws people in," teacher Jonathan Morris tells the Courant.
Critics say that forcing squeamish students to dissect dead animals could turn them off to science at a time when the state is trying to promote more interest in the subject. Many Connecticut schools already offer the virtual software — or other alternatives — to students who aren't willing to wield a scalpel, so some educators say the law is not necessary.
Filed under: K-12 Education News
Tags: Biology, Education Policy, Public Policy, Science Education