Posted on
August 14th, 2017
by Mary Lord
On Monday, August 21, 2017, all of North America will be treated to an eclipse of the sun. Anyone within the path of totality – when the moon will completely cover the sun and its tenuous atmosphere, the corona – can experience one of nature's most inspiring, albeit fleeting, events. At its longest, in parts of southern Illinois and Kentucky, totality will last just 2 minutes and 40 seconds.
As the above NASA animation shows, the moon's full shadow will streak at 2,000 m.p.h. across a broad swath of the United States, starting from from Lincoln Beach, Oregon,around 9:15 a.m. Pacific time and wrapping up in Charleston, South Carolina, around 4 p.m. Eastern time. Along the way, as the Washington Post's Michael Ruane writes, it will plunge such diverse areas of the country as extinct Idaho volcanoes and downtown Kansas City into total darkness. Click HERE for a list of cities in the path of totality.
The U.S. space agency has assembled a helpful guide for experiencing the the eclipse, from where and when totality will occur to tips for safe viewing and list of EVENTS.  The Washington Post, which is publishing Eclipse Day weather forecasts, offers a rundown of what to expect in the 90 minutes leading up to totality… and top pop culture eclipse moments. (Think Bugs Bunny reenacting Mark Twain's classic Connecticut Yankee in King Arthur's Court.)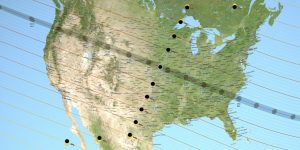 NASA's comprehensive Eclipse 101 site includes a history of eclipses, a primer on how eclipses work, downloadable maps, and activities – such as "citizen explorer" projects to measure the temperature at totality or art projects like taking videos of yourself dancing in the moon's shadow at totality. There's also a site for educators that features a downloadable Eclipse Kit with instructions for making a safe viewing device out of a cereal box and other activities.
Can't experience the eclipse first hand? NASA's got you covered with interactive, 3-D web simulations and live streaming broadcasts from 12 sites and even aircraft. Tune in from noon to 4 p.m. EDT.
Astrophysicist Neil deGrasse Tyson offers this piece of advice: Put down your phone and watch the eclipse, don't photograph it! Don't look at the sun directly, however, or through exposed film or other homemade glasses. A few seconds of quick glances can cause permanent eye damage. Click HERE for more on eye safety.
Filed under: Class Activities, K-12 Outreach Programs, Special Features, Web Resources
Tags: Astronomy, eclipse viewing, Geography, History, Internet Resources, maps, NASA, Outreach, Resources for Teachers, solar eclipse, totality, Web Resources