Posted on
July 11th, 2017
by Mary Lord
An assistive-technology pioneer wants people with disabilities to see engineering as a great career.
When a tractor-trailer struck Rory Cooper during a bike ride, leaving him paralyzed, it cut short his Army service. It would have ended a competitive track career as well had he kept the clunky "80-pound chrome behemoth" of a wheelchair that hospitals issued back in 1980. But Cooper had another idea: designing a nimbler device that he could race.
Cooper, a runner and Olympic track-trials qualifier before the accident, started building his own chassis and racing wheels in his mom's automotive machine shop. Enrolling at California Polytechnic State University, he refined his design in the engineering lab, where his professors modified workbenches so he could participate fully. Soon, Cooper was racing a modified version of the hospital wheelchair.
What began as a hobby became a calling. After obtaining bachelor's and master's degrees at CalPoly, Cooper proceeded to earn a Ph.D. in electrical and computer engineering with a concentration in bioengineering from the University of California, Santa Barbara. Hired by the University of Pittsburgh, he founded a lab credited with breakthrough wheelchair technologies ranging from adjustable backrests to ergonomic push-rims. Along the way, he set a world record, clinched a Paralympic bronze medal at the 1988 Seoul games, and won numerous athletic competitions, taking home a gold medal in swimming in 2015 and completing the 2017 Dick's Pittsburgh Marathon in the handcycling division. His achievements landed him on the Cheerios box in 2009 and selection as a  2017 finalist for the Samuel J. Heyman Service to America medal, aka the Sammies, the highest honor for federal employees.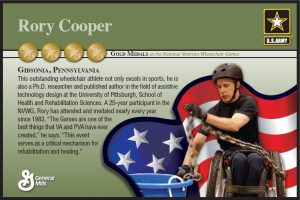 Being an athlete and wheelchair user lets Cooper, a professor of bio- and mechanical engineering, physical medicine, and orthopedic surgery, solve problems other engineers might not even see. Consider the need for sturdy, lightweight frames that won't crack from use or falls. One of Cooper's early innovations, the square cross-section cross brace, is now taken for granted in today's wheelchairs. So are folding models that can navigate narrow airplane aisles. His 20 awarded and pending patents include shock absorbers, joysticks, and a robotic strong arm to help transfer a person from one surface to another, such as from chair to bed. He also has authored or co-authored more than 300 peer-reviewed research papers, published books on rehabilitation engineering and wheelchair selection, and co-edited seminal works on caring for combat amputees and the medical rehabilitation of wounded warriors.
(The May 2017 New Mobility magazine cover story featured Cooper and his lab's inventions. He also explains the how engineering is changing what it means to be disabled in this TIME video (above) and the science and engineering behind paralympic wheelchairs and other assistive devices for athletes in a 2012 Engineering for Mobility video and interview by NBC Learn.)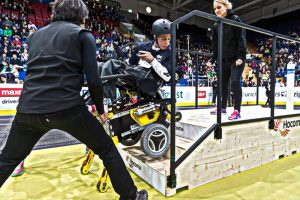 From the pioneering outpost that Cooper created in 1994, Pitt's Human Engineering Research Laboratories (HERL) has grown to a staff of 70 engineers, physicians, physical and occupational therapists, and students who conduct more than 74 clinical studies to improve the mobility and function of disabled patients. Beyond assistive devices, Cooper's team – 30 percent of whom have disabilities – was among the first to quantify the importance of sports and recreation in the successful rehabilitation of people with disabilities. Other projects include a "smart wheel" that measures the forces on racers to improve performance, a "throwing chair" suitable for novice and Paralympic shot put, discus, and javelin athletes, and MEBot, a curb-climbing robotic wheelchair shown in the photo, above, being put through its paces by Cooper at the 2016 Cybathlon trials. His team's air-powered PneuChair, a completely submersible wheelchair, debuted this spring at Morgan's Wonderland – a theme park build for people with disabilities in San Antonio, Texas, that opened a new water park for 2017.
"The whole idea is to facilitate social integration and full participation," Cooper explains. He foresees a time when advances in robotics, materials, and rapid prototyping will revolutionize rehabilitative engineering, with machines doing what humans cannot and affordable devices that are truly customized for each individual. America's aging population means demand is sure to surge. "This is a really exciting time to be in this field, and will be for at least the next quarter century," says Cooper.
But adaptive innovations – and involving users in their design, research, and even marketing – are just part of his vision. "We need to transform this from a medical issue to a human rights issue" and focus on "inclusion and quality of life" rather than health, insists Cooper. More broadly, he hopes his work as a researcher and award-winning teacher will inspire by example. "It's not about better technologies for people with disabilities, but to get society as a whole to raise their awareness that engineering is a great profession, including for people with disabilities," he says.
Even with his first 80-pound clunker, Cooper recognizes he was better off than the 50 million people worldwide who need wheelchairs and can't get them. So, armed with a $2.6 million grant from the U.S. Agency for International Development, Cooper and HERL's associate director of engineering, Jon Pearlman, launched the International Society for Wheelchair Professionals to distribute equipment, mostly in developing countries, provide a higher level of standardization and oversight, and teach wheelchair repair.
by Mary Lord
This article originally appeared in the September, 2015, issue of ASEE's Prism magazine and has been updated to reflect new breakthroughs and awards.
Filed under: Special Features
Tags: adaptive technologies, assistive technologies, Atheletes, basketball, biomechanical engineering, electrical and computer engineering, Human Engineering Research Lab, paralypics, Rory Cooper, Sports, students with disabilities, University of Pittsburgh, wheelchair