Posted on
February 8th, 2018
by Mary Lord
Children's literature is full of memorable wildlife adventure stories, from Ring of Bright Water – Gavin Maxwell's classic about his pet otters in remote Scotland – to Marjorie Kinnan Rawlings' The Yearling, Jack London's White Fang and The Call of the Wild, and Sterling North's chronicle of his rural Wisconsin childhood and raising a raccoon named Rascal.
Now comes Beauty and the Beak, possibly the first true wildlife rescue story in which engineering plays a prominent role. Deborah Lee Rose and coauthor Jane Veltkamp, a raptor biologist who led the rescue effort, trace the journey of Beauty, an eagle whose top beak has been shot off by a poacher, from her early life in the Alaskan wilds to her arrival at Veltkamp's Birds of Prey Northwest center in Idaho to being outfitted with a 3-D printed prosthetic — with the help of a mechanical engineer, veterinarian, and dentist.
To accompany the book, which won the national American Association for the Advancement of Science /Subaru SB&F Prize for Excellence in Science Books, there is a free, downloadable education guide with standards-based, hands-on activities about Beauty's engineered beak, including Go Fish: Engineering a Prosthetic Tail [grades 6-8] and other wildlife prosthetic lessons created by the Museum of Science, Boston Engineering is Elementary. It is downloadable on the authors' websites: www.birdsofpreynorthwest.org and www.deborahleerose.com.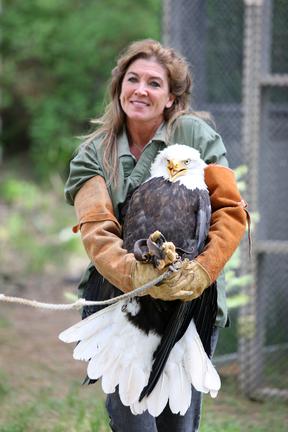 The book also dovetails with the Standards for the Professional Development of K-12 Teachers developed by ASEE's Precollege Division, notably:
A6-2: Participants identify the types of engineers who would work on a team addressing a particular design challenge in a professional setting. Participants research the represented fields (i.e. professions, projects, research areas) on which such engineers currently work.
A7-1:Engage participants in comparing engineering with non-engineering content areas (e.g., mathematics, science, social studies, English language arts, the arts, technology education);
A10-1: Provide opportunities for participants to explore the work of engineers and their contributions to society;
C2-1: Engage participants in engineering design challenges that require horizontal integration with non-engineering content (e.g., mathematics, science, social studies, English language arts, the arts, technology education);
C3-1: Draw attention to the way in which engineering design and problem solving reinforce skills (e.g., 21st century skills such as creativity, communication, critical thinking, and collaboration) and practices (e.g., modeling, data analysis, and presentation) that are relevant to many fields.
Read the 3D Print.com article about Beauty and Jane Veltkamp's work.
Beauty and the Beak: How Science, Technology, and a 3D-Printed Beak Rescued a Bald Eagle.
Deborah Lee Rose and Jane Veltkamp
40 pages
Persnickety Press
Filed under: Class Activities, For Teachers, Special Features, Web Resources
Tags: 3-D printing, AAAS/Suburu best science books, bald eagle rescue, Beauty and the Beak, biologyy, Birds of Prey Northwest, children's literature, Class Activities, Deborah Lee Rose, eagle, Engineering, Environmental Engineering, Environmental science, Internet Resources, Jane Veltkamp, Prosthetics, raptor, Resources for Teachers, STEM education, wildlife, wildlife engineering, wildlife rescue