Posted on
December 12th, 2010
by Jaimie Schock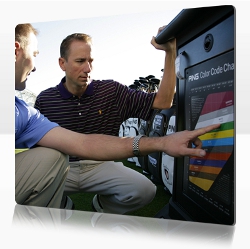 Research engineer Paul Wood oversees the Innovations department at PING, a Phoenix, Arizona-based company that creates custom-fitted golf clubs. An email request from Jeff Lewis of Mesa immediately stood out: Lewis has been a quadruple amputee since 2005.
According to the Arizona Republic, Wood "challenged his engineers and summer interns to come up with a solution for Lewis." The researchers developed "a workable prototype" for Lewis and worked with a prosthetist to develop a set of unique clubs.
The team also developed a special tee that was easier for Lewis to use. "Ping is incorporating the knowledge it got from working with Lewis into sets it builds for veterans of the wars in Iraq and Afghanistan who take part in the Wounded Warrior Project." Ping is also using the technology for company testing.
Image from PING
Filed under: Special Features
Tags: Biomedical, Biomedical Engineering, Corporations, Prosthetics, Sports, Sports Engineering