Posted on
December 21st, 2009
by ASEE
The "Nation's Report Card" is in, and for America's big cities the results are decidedly mixed. Efforts to improve math scores in urban areas have essentially stalled.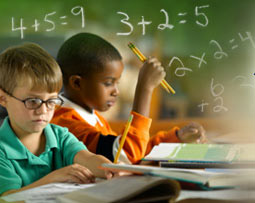 Image courtesy NAEP website
The biennial National Assessment of Educational Progress is considered the "gold standard" of tests, the New York Times reports, because it's more rigorous than state exams. And since 2003, it has been monitoring the math results in 11 urban areas — where poor and minority students often attend underperforming schools, the Wall Street Journal explains. Between 2003 and 2007, strides were being made in all districts. But over the last two years, only four cities continued to show gains.
Moreover, this study included an additional seven cities, Detroit, Baltimore and Philadelphia among them. Detroit came in dead last. The math test for 4th graders ranges from zero to 500, and 249 is considered proficient, 214 basic. The national average is 239; the big city average, 231. Detroit's score: 200.
The Detroit News argues that the "abysmal" results should push the city to follow Washington D.C.'s lead. Washington officials have closed schools, axed principals and placed teachers on performance contracts to improve results, and D.C. was among the four cities to see its math scores rise.
Still, since most cities' math scores didn't increase, the Journal reports, that gives ammunition to critics who have questioned past gains. Federal and school officials point out, however, that none of the cities lost ground — arguing that's not a bad result at a time when many school district budgets are under pressure.
Filed under: K-12 Education News