Posted on
March 24th, 2014
by Mary Lord
[youtube]http://www.youtube.com/watch?v=_4PLGcDypok&feature=plcp[/youtube]
Camp SOAR is a five-day summer camp designed to expose upcoming high school juniors and seniors with an interest in aerospace engineering to the research and facilities at Texas A&M University's Department of Aerospace Engineering (AERO).
During the week at Texas A&M, students will explore the field though design projects and departmental tours, including visits to the Land Air and Space Robotics Lab and the Flight Research Laboratory. They also will have the opportunity to interact with current students as well as world-renowned faculty members.
Download the application (pdf) HERE. Deadline to apply is June 6, 2014.
Location: College Station, Texas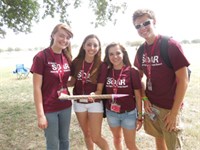 Date: July 20 – 25, 2014
Age Group: Rising high-school juniors and seniors 
Website: http://engineering.tamu.edu/aerospace/about/outreach/undergraduate/camp-soar
Contact Information: Laura Olivarez, undergraduate academic adviser, department of aerospace engineering, laura.olivarez@tamu.edu or by phone at 979.845.2685
Filed under: Grades 9-12, K-12 Outreach Programs
Tags: Aerospace, Aerospace Engineering, pre-college, Summer Camps & Programs (Students), Summer Programs (Students), Texas A&M