Posted on
March 20th, 2011
by Mary Lord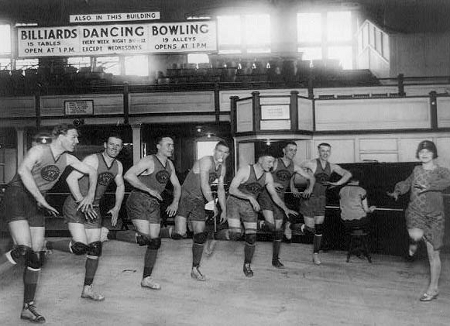 Basketball players learn the Charleston to improve their game.
From long-shot "Cinderella" teams to "field goal" averages and "bracketology," the NCAA Div. 1 men's college basketball championship has generated a host of pet terms and traditions since it first tipped off in 1939. The single elimination "March Madness" tournament now boasts more fans than almost any other U.S. sporting event.  Here's a guide to this year's Big Dance.
More teams. The NCAA expanded the tournament by four colleges, to a record 68 teams. That meant a new "First Four" qualifying match in Dayton along with the usual "Final Four" championship — to take place in Houston April 2 and 4.  For the first time, four networks have joined forces to broadcast every game from start to finish.
Bracketology.  The basketball equivalent of reading tea leaves for the wagering classes, this handy, interactive NCAA chart helps fans and newbies alike track their teams.  Some 31 teams earned automatic berths at the Big Dance by winning their respective athletic conferences. The first three rounds whittle down winners for the "Sweet Sixteen" regional semifinals beginning March 24-25. followed by the "Elite Eight" regional finals March 26-27.
The glass slipper. In 2006 A few years back, little George Mason University in northern Virginia rocked the house by making it to the Final Four.  Last year, the Butler Bulldogs (who?!) were one possession away from winning the national title.  Xavier and other Cinderella contenders from "mid-major" conferences stumbled early, with North Carolina and Kansas State considered "sleepers" because they revved up late in the season. Bet on plenty of buzzer-beating upsets like 14th-ranked Morehead State's 62-61 first-round stunner over 4th-ranked Louisville, or #8 Butler's last-second triumph over top-seeded Pittsburgh.
"We got Jimmered." Jimmer Fredette, a senior from Brigham Young University and the nation's top scorer, has become both a household name and a verb. When he jammed in 47 points against Utah and 43 against rival San Diego State, they got "Jimmered."  Having played in informal games against prison inmates, Fredette isn't about to tread lightly on the Big Dance floor.
Scorecard. Shots from inside the circle count for 2 points; sink one from a greater distance and it's a 3-pointer, or "field goal." Foul shots — from the penalty line — add 1 point to the scoreboard.
Filed under: Special Features
Tags: Lesson Plans, Sports, Sports Engineering