Posted on
March 20th, 2011
by Mary Lord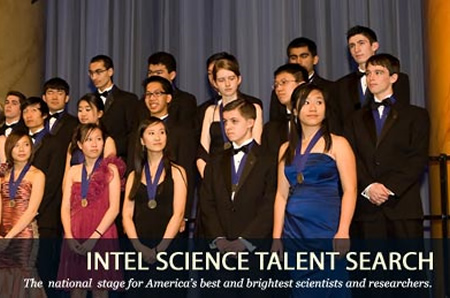 Image from the Society for Science Website
President Obama drew applause during the State of the Union address for urging Americans to "teach our kids that it's not just the winner of the Super Bowl who deserves to be celebrated, but the winner of the science fair." Last week,  America's No. 1 hoops fan made good on that pledge by welcoming the 40 high school finalists of this year's Intel Science Talent Search to the White House.
The STEM superstars were  in Washington, D.C. for the final judging of their projects in one of America's oldest and most prestigious science and engineering research competitions.  Many past Science Talent Search participants have gone on to distinguished careers, including seven Nobel laureates, four National Medal of Science winners, 11 MacArthur Foundation Fellows ("genius" award winners), two Fields Medalists… and one Academy Award winner, Natalie Portman.
While in the nation's capital, this year's finalists — 16 girls and 24 boys who represent 39 schools in 15 states and were selected from 1,744 applications — met with scientists and displayed their work. Projects ranged from Internet security to cancer treatment to social robotics; one, entitled "Traveling the Interplanetary Superhighway: An Autonomous Spacecraft Navigation System," aimed high indeed.
At the East Room ceremony March 15, President Obama told the students that as the next generation of scientists, engineers, and technological leaders, their success is crucial for America to win the future.  He also praised them as role models for the benefits of high-quality science, technology, engineering, and math education in the United States, a national priority.
The top 10 champions were announced at a Washington, D.C., gala later that evening. Evan O'Dorney, 17, a math whiz from Danville, Calif., won the $100,000 first prize from the Intel Foundation for "Cracking the Code." His project compared two ways to estimate the square root of an integer.  Second-place honors, and $75,000, went to Michelle Hackman, 17, from Great Neck, N.Y., who studied the effects of separating teenagers from their cell phones. In total, the winners shared $630,000 in awards.
Filed under: K-12 Education News
Tags: Competitions for Students, Contest, Grades 9-12, Mathematics, Science