Posted on
May 17th, 2010
by ASEE
Study the science of art and the art of science. –Leonardo da Vinci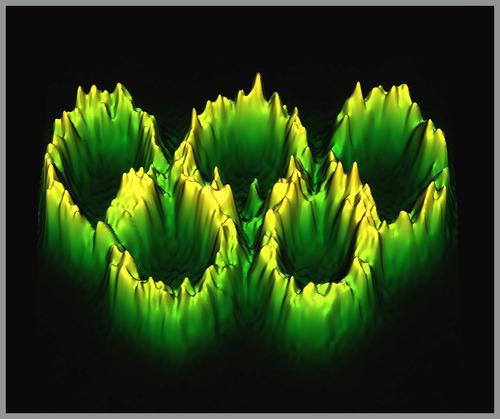 Since 2005, Princeton University has hosted an annual The Art of Science exhibition and contest, intended to explore the interplay between science and art. The 2010 competition drew more than 115 submissions from 20 departments, with 45 images chosen to represent the theme of "energy," including several from engineering departments. Each image,  produced during the course of scientific research, was selected  for its aesthetic excellence, as well as scientific or technical interest. Selections from the 2005-2010 exhibits can be accessed online, displaying work by Princeton undergraduates, faculty, research staff, graduate students, and alumni.
(top image:) Nonlinear Olympic Rings by Dmitry V. Dylov (GS) and Jason W. Fleischer (fac) , Department of Electrical Engineering. Noise is commonly considered harmful to signal transmission. Nonetheless, it still carries a remarkable amount of energy that can come in handy in certain situations — if used in the right way! In this experiment, for example, we used "non-linear" material — which is known to alter the behavior of light in strange ways — in order to extract the energy from noise. Thus an obscured image — in this case, an image of Olympic rings — emerged as a clear pattern. The process is akin to improving poor TV reception using the distorted, or "noisy," part of the broadcast signal.
(bottom image:) Stirring Faces by Steve Brunton (GS), Department of Mechanical & Aerospace Engineering. These panels show mixing that takes place when a flat plate moves up and down in an otherwise still fluid. Each face represents the fluid flow field at a different point in time. As the fluid mixes, the facial expressions become more elaborate.
Filed under: Web Resources
Tags: Art