Posted on
January 11th, 2011
by Jaimie Schock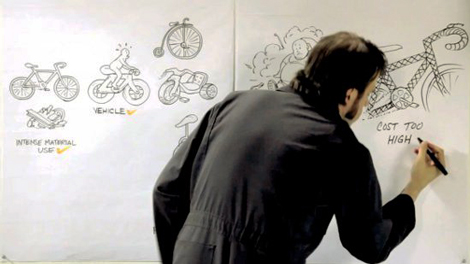 The Sustainability Workshop video series from Autodesk, an eGFI sponsor, uses animated drawings and real-world examples in short films that explain essential concepts for budding engineers. Some topics include engineering systems, green design, turning an idea into a finished product, and even why modern bicycles look so different from those built 200 years ago.
Sustainability is a hot topic in the engineering world today, as more and more countries, businesses and individuals are looking to minimize their environmental impact. Engineers can make a substantial difference by incorporating sustainable design considerations into their inventions, whether they be green buildings, household appliances, or solar roads.
Watch one of the videos below or view the whole series here.
Whole Systems Design
Sustainable Design Education
Nearly all industries—from consumer goods and transportation to architecture, utilities, and urban planning—are asking designers and engineers to deliver more sustainable products and projects. Autodesk creates tools to help others design more sustainably. However, it believes tools alone are not enough to change customers' and students' design practices. To deliver results, practitioners need training in the software, so they can use it to their full advantage.
Faculty and educational institutions have a critical role to play by teaching students to practice sustainable design in quickly transforming engineering fields. Academic institutions are responding by offering courses in sustainable design and sustainability-focused programs, degrees, and certifications.
Autodesk supports these developments by providing universities with free* software, enabling students to learn and practice sustainable design using its technologies. It offers more than 25 titles of 2010 software to all students and educators, such as AutoCAD® Civil 3D®, Autodesk® Inventor®, and Autodesk® Revit® software. In 2009, users downloaded nearly 870,000 titles for a total of more than 2 million since 2006 (data is per calendar year).
Partnering with Universities to Develop Design Curriculum
Autodesk also partners with educational institutions to develop curriculum for university-level classes. Their 2010 curriculum helps educators incorporate Building Information Modeling (BIM) techniques and technology into sustainable design practice within the classroom and studio. The curriculum helps prepare architecture and engineering students for the integrated practice of sustainable design, and can serve as a template for the formal exploration of BIM methods and sustainable design analysis tools.
The company offers a range of resources to help professionals understand the software helps enable sustainable design and the benefits of doing so. Special sessions on sustainability are available at trade shows and conferences.
*Free products are subject to the terms and conditions of the end-user license agreement that accompanies the software. The license term varies by product from 90 days to 13 months.
Read more about Autodesk's teaching sustainability initiatives here.
Filed under: Web Resources
Tags: Architectural, Corporations, Design, Engineering Design, Engineering Design Process, Environmental Engineering, Green, Green Technology, Software, Sustainability, Videos, Web Resources