Posted on
July 6th, 2010
by ASEE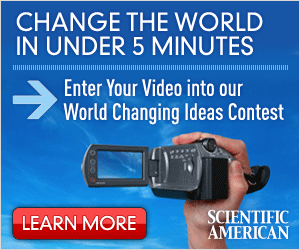 Deadline: September 15, 2010. Level: U.S. citizens or legal residents, 18 and older. Prize: Recognition by the judges and/or readers and the posting of the video(s) online.
World Changing Ideas Video contest
Scientific American is sponsoring  a World Changing Ideas Video contest, in partnership with SciVee. The contest solicits  video entries about innovative ways to build a cleaner, healthier, safer world.
Participants must be 18 years or older, so this contest would require teacher participation.
The  non-commercial videos of 2 – 5 minutes should fall into one of the following categories:
Energy
Transportation
Environment
Electronics or Robotics
Healthcare or Medicine
The ideas represent a simple yet powerful vision of a better future. Some ideas may be in use now; others are emerging from the lab.
WINNING ENTRIES:
There will be one winner and two runners up in each category selected by the judges. In addition, there will be a Viewers' Choice vote in each category for a favorite video.
Scientific American will judge the entries, and ask its readers to pick their favorites in each category, then announce the winners in September, 2010.
Winning entries will be recognized, featured and promoted on the Scientific American web site: The name of winner will be posted at www.ScientificAmerican.com and on www.SciVee.tv, on or about November 15, 2010.
Judging Criteria:
Videos will be judged on overall impact, scientific content, concept/originality, entertainment value, and production quality.
There will be no award or prize other than recognition by the judges and/or readers and the posting of the video(s) online.
For examples of World Changing Ideas, see "World Changing Ideas," Scientific American; December 2009 – http://www.scientificamerican.com/article.cfm?id=world-changing-ideas.
Here's how to upload your video:
1. Go to http://www.scivee.tv/uploadvideo and login to Scivee or register if you're not already a user.
2. Follow the video upload process:
Mark your entry as a "video only."
Give your video a title, a short description, and list the authors
Choose the appropriate audience and subject areas.
3. When asked to enter tags, make sure you enter WCI-Energy, WCI-Transportation, WCI-Environment, WCI-Electronics, or WCI-Healthcare to place your submission in the appropriate category. You can submit only one video per category,  and each video may be entered in only one category.
4. Click finish, and you'll be entered into the contest.
Please see the Scivee.tv Website for the complete contest rules.
Scientific American, Inc. 75 Varick St., 9th Floor, New York, NY 10013
Filed under: K-12 Outreach Programs
Tags: Science Contest, Video contest