Posted on
May 31st, 2017
by Mary Lord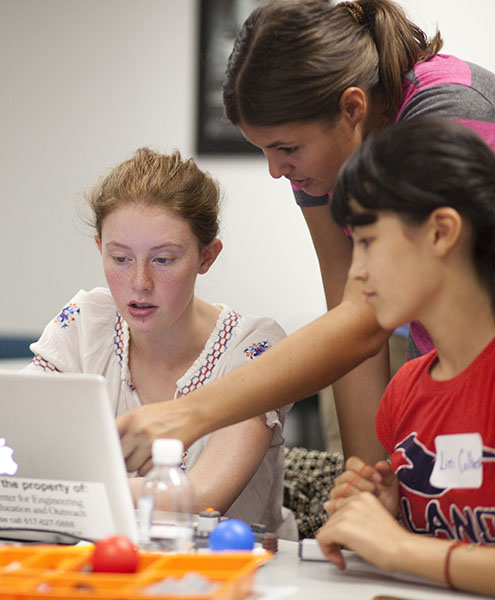 Do you want to dive into K-12 engineering education in your pajamas?
Tufts University's Center for Engineering Education and Outreach is now recruiting for its third cohort of teachers for its online Teacher Engineering Education Program. The 18-month, graduate-level program consists of four courses that cover engineering content and teaching practices designed to foster hands-on, problem-based learning. Courses are rigorous, delivered completely online, and asynchronous. Each is worth 4 graduate credit hours and can be taken individually or as a special certificate program
The program has tracks for those new to engineering education as well as experienced educators looking to advance their teaching practices.
Participants engage in open-ended design projects at their kitchen tables to build their engineering knowledge and interact with colleagues, looking at student work and building relationships that will last far beyond the program's completion. Experience and novice teachers have been excited to participate in the program.  "If you are looking for a course that will fundamentally transform the way you teach, then the program could be for you," says Silvia Scott,  a K-5 technology integration specialist from Connecticut. "I thought I knew about teaching technology, but this course will give you access to a supportive teaching team, discussions on ground breaking research with your TEEP cohort, and hands-on labs to develop your engineering skills and knowledge."
To learn more,
Visit http://teep.tufts.edu or e-mail teep@tufts.edu
Register to attend a VIRTUAL OPEN HOUSE:
•June 14, 2017 at 4 PM EDT
•June 22, 2017 at 4 PM EDT
3.  Talk to a Tufts Center for Engineering Education & Outreach representative at the:
Prepare your students to change the world while meeting the required standards of a quality education!
Photo by Kelvin Ma/Tufts University: Summer campers construct a robotic arm out of LEGOs as part of a presentation from NASA astronaut Mike Foreman at Tufts University's Center for Engineering Education and Outreach, Aug. 13, 2012.

Filed under: For Teachers, K-12 Outreach Programs, Special Features
Tags: Continuing Education, Internet Resources, online K12 engineering education graduate certificate program, online learning, Professional Development, Programs for Teachers, Resources for Teachers, Tufts University Center for Engineering Education and Outreach