Posted on
January 23rd, 2011
by Jaimie Schock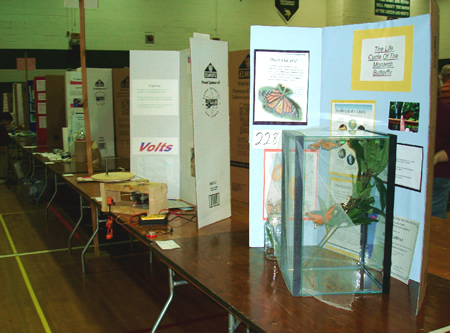 Science Fair history began when journalist E.W. Scripps created Science Services as a nonprofit organization in 1921. The purpose was to bridge the gap between scientific achievement and the public's knowledge of such achievement. Scripps had to convince the scientific community that a news syndication service could successfully popularize science by presenting unsensationalized, accurate, and fascinating scientific news to the American public.
At the time accurate articles were being published in scientific journals and could not be understood by the lay public. Scripps' goal was to have Science Service explain scientific ideas, in clear terms, and to circulate them among the public. The mission of Science Service would be to convince newspaper publishers that they could profit from such a service and to convince editors that science was newsworthy.
In 1941, Science Service, together with the American Institute of the city of New York, developed Science Clubs of America. 800 Clubs were established throughout the 48 states. Through Science Service's efforts, junior academies of science, museums, and local science clubs throughout the United States were enrolled. As a result over 600,000 young scientists were organized into 25,000 science clubs.
In 1942, The Science Talent Search (STS) was born. STS is the oldest and most highly regarded science contest for high school seniors. Established by Science Service and Westinghouse, its purpose was to encourage talented students to pursue a career in science or engineering. This first science competition for scholarships established a marker in science fair history. Since 1942, almost 3000 finalists have received $4 million in scholarships. These finalists have gone on to hold more than 100 of the world's most coveted science and math honors including three National medal of Science winners, nine MacArthur Foundation Fellows, two Fields Medalists, and five Nobel Laureates. Each year, 40 finalists are chosen to attend the Science Talent Institute in Washington, D.C., where students exhibit their research at the National Academy of Sciences and compete for the top prize of a $100,000 scholarship.
In the meantime, local and regional competitions arose among club members. Nurtured by Science Service, in 1950, high school finalist from these competitions met in Philadelphia and became the International Science and Engineering Fair (ISEF). It is the world's largest pre-college celebration of science, and the world's only international science competition for students in grades 9 through 12.
In 1999, Science Service partnered with Discovery Communications, Inc. and launched the Discovery Channel Young Scientist Challenge (DCYSC), a program that celebrates the abilities of 5th – 8th grade science fair winners.
Science Service has contributed to the recruitment of new generations of mathematicians, scientists, and engineers into universities and industry through science competitions. This has strengthened U.S. research and technology at all levels.
Source: http://www.super-science-fair-projects.com/science-fair-history.html
Filed under: Web Resources
Tags: History, Science and Engineering Fair, Science Fair, Science Fair Projects