Posted on
April 24th, 2011
by Mary Lord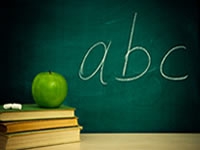 For nearly a decade, the federal No Child Left Behind law has held states, schools, and educators responsible for ensuring all students can read and do math proficiently.
Now, states and local school districts have made student performance the centerpiece of revamped teacher evaluation systems that reward — or punish — according to test-score gains.
Few question the need for change. In a 2009 study of teacher evaluation systems called "The Widget Effect," researchers found that most districts, over 90 percent of teachers received positive ratings, even in low-performing schools. As the Education Commission of the States reports, the push to revise those systems has accelerated in recent weeks.
In Virginia, for example, nearly 170 "hard to staff" schools can apply to participate in a pay-for-performance plan approved by the legislature earlier this year that could bestow up to $5,000 per teacher. (Virginian-Pilot, 4/20)  Schools that receive the extra state funding must implement a teacher evaluation plan in which student growth counts for at least 40 percent. The Virginia state board of education will vote on model evaluation criteria and performance standards April 28.
The Tennessee state board of education recently approved new teacher-evaluation standards in which student performance counts for 50 percent of an educator's overall grade. (Times Free Press, 4/16) Of that half, 35 percent of the evaluation must be linked directly to growth on the Tennessee Value-Added Assessment System, with the remaining 15 percent coming from one of nine other state-mandated categories, such as student graduation rates, subject-specific test scores, or similar measures, decided by teachers and administrators.
New rules just proposed by the Massachusetts education commissioner (Boston Globe, 4/17) would radically overhaul the way teachers and administrators are evaluated, rewarding those whose students show more than a year's worth of growth in proficiency on state and other exams. Educators whose students perform poorly would be placed on one-year "improvement plans'' and could face termination if they do not demonstrate progress.
Washington's State Senate echoed that idea, recently approving an education bill that would make teachers who score lowest on performance evaluations the first in line for layoffs. (Seattle Times, 4/12) Under current law, newly hired educators are the first to be cut."Why in the world would you ever lay off a second-year teacher of the year in lieu of maybe an eighth- or ninth-year teacher who's on probation?" asked Sen. Rodney Tom (D-Medina), who proposed the version of the bill that passed the Senate.
New Jersey Gov. Chris Christie unveiled a similar proposal that would link teacher tenure attainment and merit pay to a statewide evaluation system he hopes to have in place by the 2012 school year. (NJ Star-Ledger, 4/13)
Meanwhile, Education Week reported that five new state superintendents of education–from Maine, New Jersey, New Mexico, Oklahoma, and Tennessee — have joined "Chiefs for Change." The group, formed by former Florida Gov. Jeb Bush, aims to promote new approaches to evaluating teachers, improving standards and testing, and fostering innovation.
Will the graders make the grade?
Filed under: K-12 Education News
Tags: Education Policy, Teachers