Posted on
March 6th, 2011
by Mary Lord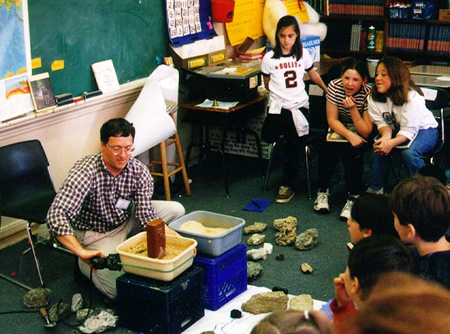 Elementary schools in Massachusetts and across the nation are struggling to fit science lessons into a school day packed with other subjects, particularly reading and math that are tied to accountability measures, the Boston Globe reports. The amount of science instruction varies by school and district, but many educators say students need more hands-on
lessons beginning in elementary school to help prepare them for careers in science fields–a stated federal goal under the Obama administration.
At Everett Elementary School in Boston, for instance, science teacher Diana Doan outfits her fourth graders with research badges, takes them into the hall, and has them jot down observations of classmates and teachers in their native "habitat." That's the only way she can ensure her pupils get at least one hour of science instruction a week–on the high end for many Boston Public Schools.
Many educators blame the No Child Left Behind Act for shortchanging science. The law says all children must be proficient in reading and math by 2014, and mandates annual assessments for those in grades 3 through 8 and again in 10th grade. Science, which gets tested in elementary, middle and high school, rarely "counts" on a school's or district's annual report card. Result: fewer minutes of science instruction. A 2008 report by the Rennie Center for Education Research and Policy, a Massachusetts nonprofit that encourages education reform, found that of 13 suburban and urban schools surveyed, each spent at least 450 minutes per week on English instruction and 300 minutes on math. Average science instruction ranged from 145 minutes a week at struggling schools to 210 minutes a week at those with high test scores.
How does science fare in your school's schedule?
Filed under: K-12 Education News
Tags: Curriculum, Lesson Plan, Lesson Plans, Teachers