Posted on
March 27th, 2011
by ASEE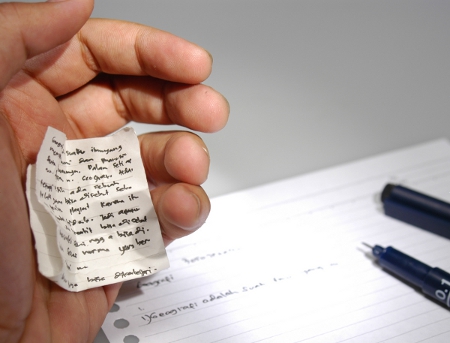 In response to cheating, many states and school districts are tightening test security, USA Today reports.
Texas, hit by allegations of widespread test tampering in 2006, requires schools to distribute a 14-point test security plan to staff. It emphatically lays out what steps schools must follow during test administration and warns that state investigators will ferret out cheaters. The anti-cheating arsenal includes computerized bubble-sheet and erasure analyses, surprise visits to schools and signed security oaths.
The 14 points "really cause educators to stop and think two, three, four times before they're willing to risk their certification," says Criss Cloudt, the state's associate commissioner for accountability. The plan has put a spotlight on cheating and led to more reports from suspicious parents and teachers — up from 3,954 in 2008 to 4,462 in 2010, according to state records — but Cloudt can't say whether Texas has eliminated "educator security violations" statewide.
The number of Texas educators whose state certification is on the line for test-tampering has stayed about the same from year to year — about 25 annually.
In other places, educators are experimenting with different ways to test what kids learn. Bill Tucker, a managing director at Education Sector, a Washington, D.C., think tank, says states like Oregon have led the way with so-called adaptive tests, computerized assessments that actually change as students answer questions right or wrong. Such tests satisfy the requirements of the No Child Left Behind law. Students sit for these tests any time they're ready, from October on, and the tests allow schools to find out more about how much kids have learned. And since each test is essentially different from the last, they're "harder to game," Tucker says.
In a bid to look beyond bedrock skills such as reading and math, a few states are also looking at other measures, such as how many of their high school graduates had to take remedial classes in college, Tucker says.
The federal government has also invested in two separate efforts by the states to overhaul tests; 45 states are participating. One project is aimed at developing so-called "through testing," which would sample every few months how much students learn, then combine those scores with the score on an end-of-year test. The other project focuses on computer-adaptive tests, like those used in Oregon, to be given at year's end.
Scarsdale, N.Y., Superintendent Michael McGill says cheating is just the beginning of trouble for a system designed around rigid annual measures. "You can tighten and tighten and tighten the system and people will still find ways to game it," he says. "People are always going to be smarter than the system — they're always going to find ways to play it."
Filed under: K-12 Education News
Tags: Education Policy, Public Policy, Teachers, Testing