Posted on
May 10th, 2012
by Jaimie Schock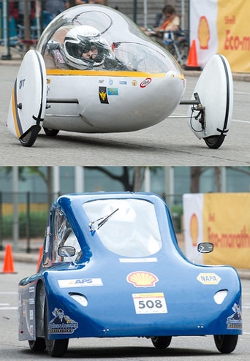 When: April 5-7, 2013
Registration for Americas competition opens Fall 2012
Where: Discovery Green Park and George R. Brown Convention Center, Houston, Texas
Level: High School and above
Shell Eco-marathon is a global challenge that motivates students to drive farther than their peers on one gallon of fuel. Student teams participate in one or both of the Prototype and UrbanConcept classes. The Prototype class invites student teams to enter futuristic streamlined vehicles focused on maximizing fuel efficiency through innovative design elements, such as drag reduction.
The UrbanConcept class focuses on more roadworthy fuel-efficient vehicles. Aimed at meeting the real-life needs of drivers, these vehicles are closer in appearance to the higher-mileage cars seen on roads today. For both vehicle classes, teams can use diesel, gasoline, ethanol, FAME, and hydrogen and battery electric technologies. For solar vehicles, starting in 2013, the official rules will encourage the integration of a PV (photovoltaic) element in the body of electric vehicles. This will allow teams to have the option to utilize solar panels (size will be limited) and add a higher technical challenge.
Participating teams must be from high schools, technical schools preparing students for vocational training certificates and professional certificates or equivalent, establishments of higher education awarding university-level diplomas, or student associations. Team registration will open in the fall of 2012 for high school and university teams across North and South America aspiring to design, build, and test fuel-efficient vehicles that travel the farthest distance using the least amount of energy.
More than 1,000 students from the United States, Canada, Mexico, and Brazil, along with their 112 vehicles, competed in the recent 2012 challenge in the Americas.  Shell awarded $44,000 in prizes to the winning teams, in addition to the travel stipends that were offered to each participating team.
Student teams should fill out an interest form to participate in the competition and/or receive additional information about the event. Email ecomarathonamericas@shell.com with any questions.
Filed under: Grades 9-12, K-12 Outreach Programs
Tags: car, Cars, college completion, Competition, Competitions for Students, Contest, Contests, Corporations, Energy and Environmental Technology, Environmental Engineering, Green, Green Technology, STEM competition