Posted on
September 12th, 2013
by Jaimie Schock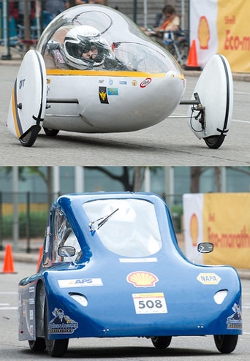 When: April 24-27, 2014
Registration deadline: Oct. 25, 2013 (for the Americas competition)
Where: Discovery Green Park and George R. Brown Convention Center, Houston, Texas
Level: High school, technical school, and college students
Could your school design and build a car capable of  squeezing 3,587 miles from a single gallon of gas?
That's the fuel-efficiency record students from Canada's University of Laval in Québec achieved at the Shell Eco-marathon in Houston earlier this year, besting 130 high school and college teams.
The ninth annual Shell Eco-marathon Americas competition, which will take place on April 24-27, 2014, in Houston, is now open for registration to high school and university student teams from across the Americas.
Created to spur innovation, the global event challenges student-teams to choose from a variety of fuel sources and develop game-changing solutions by competing to see who can travel the farthest distance using the least amount of energy. Participants receive travel stipends, with winners taking home cash prizes.
Teams can compete in one or both categories: Prototype (futuristic designs) and UrbanConcept (roadworthy, fuel-efficient vehicles).
The Prototype class focuses on maximizing fuel efficiency through innovative design elements, such as drag reduction. The UrbanConcept class aims to meet the real-life needs of drivers and are closer in appearance to the higher-mileage cars seen on roads today. For both vehicle classes, teams can use diesel, gasoline, ethanol, FAME, and hydrogen and battery electric technologies.
For solar vehicles, starting in 2013, the official rules will encourage the integration of a PV (photovoltaic) element in the body of electric vehicles. This will allow teams to have a solar-panel option, adding a higher technical challenge.
Click here to register today or Email ecomarathonamericas@shell.com with any questions.
Filed under: Grades 9-12, K-12 Outreach Programs
Tags: car, Cars, college completion, Competition, Competitions for Students, Contest, Contests, Corporations, Energy and Environmental Technology, Environmental Engineering, Green, Green Technology, STEM competition