Posted on
May 15th, 2012
by Jaimie Schock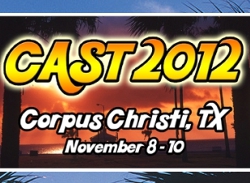 When: Nov. 8-10, 2012
Where: Corpus Christi, Texas
For more than 50 years, the Conference for the Advancement of Science Teaching (CAST) has been connecting science educators and policymakers from across Texas and beyond. CAST 2012 is Nov. 8-10 in Corpus Christi, Texas. Included in the registration price is access to more than 650 free workshops tailored to specific grade levels and subject matters.
Extra-Early Bird Registration is now open.
Extra-Early Bird Payment Deadline: July 15, 2012 ($115)
Early Bird Payment Deadline: Sept. 30, 2012 ($120)
Advance Payment Deadline: Oct. 31, 2012 ($150)
Regular Payment Deadline: Nov. 8, 2012 ($165)
No refunds or cancellations will be accepted after Oct. 25, 2012. No refunds of under $25 will be processed. All cancellations, regardless of date, are subject to a $25 non-refundable cancellation fee.
This event is hosted by the Science Teachers Association of Texas. Registration is available here.
Filed under: For Teachers, K-12 Outreach Programs
Tags: Conference, Conferences and Meetings, Events, Science Teachers, STEM teachers, Teacher Workshops, Workshops