Posted on
June 7th, 2010
by Jaimie Schock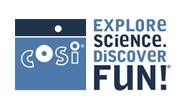 The Center of Science and Industry (COSI) in Columbus, Ohio offers summer camps, interactive online seminars with science professionals, grade-specific theme days, live science shows, demonstrations, and more than 300 interactive exhibits. For teachers, COSI offers professional development workshops, an annual Teacher Resource Fair, class materials, and discounts on admission and membership.
The COSI on Wheels outreach program for K-6 graders introduces science topics to schools with interactive assembly presentations.  The assembly is followed by hands-on activities that enhance problem solving and science inquiry skills and encourage teamwork in a  day-long science experience.
The museum specifically supports engineering learning through middle school girls' and boys' Discover… Engineering! programs, a Materials Science Day, and several engineering-themed camps.
COSI's free online activities are an extension of the museum's educational experiences and programs.  They feature a number of different science topics.
Read more about COSI and other museums in this special feature article.
Filed under: For Teachers, Grades 6-8, Grades 9-12, Grades K-5, K-12 Outreach Programs, Web Resources
Tags: Internet Resources, Museums, Science museum, Web Resources