Posted on
June 3rd, 2016
by Mary Lord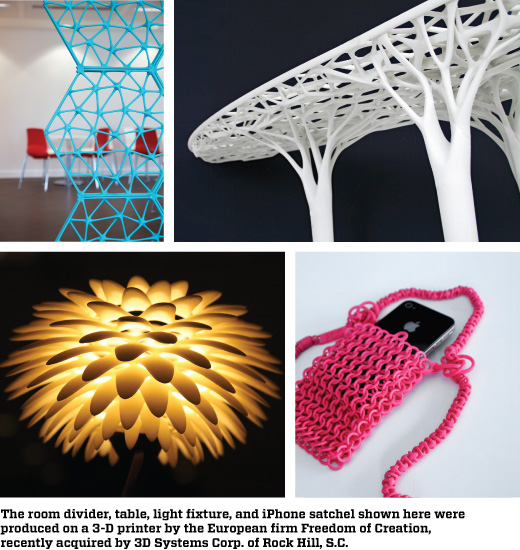 From manufacturing to fashion to fabricated body parts, 3-D printing is changing the way America does business. ASEE's Prism magazine has reported on this breakthrough technology in a series of articles. Here are three examples:
Making It! (Additive Manufacturing)
Fuel cells are typically made from three materials that have to withstand heat ranging from room temperature to 800° Celsius. But because the materials expand at different rates when heated, degradation and cracking can occur where they meet. To help solve this problem, Denis Cormier, a professor of machining and manufacturing at the Rochester Institute of Technology, is developing fuel cells that are produced by 3-D printers, microlayer by microlayer. Instead of having potentially weak seams binding them together, the materials blend into one another. "You gradually transition the materials," Cormier explains. It's an intricate weaving process that can't be done by conventional manufacturing technologies.
Such delicate fabrication is among the breakthroughs that enthusiasts hail as the first stirring of an American industrial revival. So-called advanced manufacturing brings new and emerging technologies — 3-D printing, or additive manufacturing, as well as robotics, telematics, and nanotechnology – to making what we now use or may invent, and in ways that can adapt to change. It could "offer the potential to produce higher quality and a wider variety of products — even customizing products for just a few or even a single buyer — and do so at low cost," former U.S. Commerce Secretary Gary Locke told Congress. Heralding "a renaissance in American manufacturing," President Obama has enlisted research-and-development talents from six leading universities and a half-dozen major companies in a $500 million partnership. The results could mean bright prospects for engineers in a variety of disciplines, even if they don't generate huge numbers of jobs.
Read the cover story by Thomas K. Grose that ran in the November 2011 issue of ASEE's Prism magazine.

3-D printed clothing that resembles smoke and other edgy fashion are displayed at two New York museums. (December 2015)

A new engineering discipline looks ahead to the manufacture of personalized organs for testing or replacement.
Kaiming Ye, a professor of bioengineering at Binghamton University, has a vision of health care's future: A patient goes to see his doctor complaining of chest pains and is diagnosed with serious heart disease. Some of his cells are collected, perhaps from a biopsy or a blood sample. The cells are processed and become the base material to create a new, healthy heart – possibly made with a rapid prototyper, or 3-D printer – that's unique to him. Soon afterward – perhaps even later that same day – the new heart is ready to be implanted in the patient's body, replacing his old, damaged ticker. Ye foresees similar processes being used to replace many other damaged or diseased human tissues and organs. Indeed, any technology that can manufacture a muscle as complex as a heart could easily churn out simpler organs, such as livers and kidneys.
Read the cover story by Thomas K. Grose in the February 2015 issue of ASEE's Prism.
Filed under: Special Features
Tags: 3D printing, additive manufacturing, advanced manufacturing, body parts, fashion, industry, makers movement, making, medicine, Technology