Posted on
April 4th, 2010
by Jaimie Schock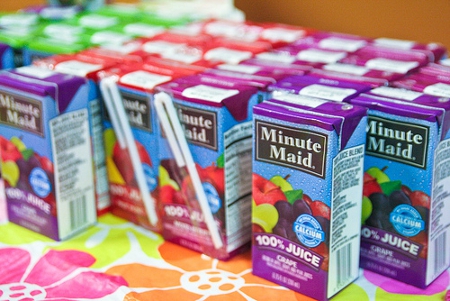 Food processing requires a lot of engineering, from developing farm equipment to the automated baking and mixing machines used in prepared desserts. One of the most inventive stages comes toward the end, when food is packaged. Johannah Frueh, a science teacher at Orange Charter School in Hillsborough, North Carolina, has incorporated into her seventh and eighth grade elective lab classes lessons on the engineering behind designing and producing food packaging.
Frueh uses a lesson plan and activity developed in 2006-7 by Chloe Mawer, then a teaching fellow at Duke University's Pratt School of Engineering, now a graduate student at Stanford. At the time, Mawer was preparing teaching materials as part of Duke's MUSIC (Math Understanding through Science Integrated with Curriculum) program. The plan helps students learn how specially designed packages keep food safe from dirt and disease, as well as about temperature changes and physical forces. More broadly, students study the physical and chemical properties of matter, as well as aspects of design, marketing, and economics.
"It really made them think about all the planning that goes into the packages that they usually just rip off their food and toss in the trash," Frueh says.
In the class activity, students design and construct their own food packages, with each group being assigned a different food type. The activity is essential, because the students "use creativity along with scientific concepts," which makes them more invested in the project, Mawer says. "This type of activity shows students that engineering … isn't just the science and math they may find boring in school."
Frueh says her class is "definitely a hit with the students," but it's also unusual. Packaging, it appears, is rarely taught as part of K-12 science, despite the fact that packaging is the nation's third largest industry. Some products require very specialized and complicated packaging, and engineers are needed to design them, along with the machines that marry container with product.
Boxing juice, for example, is more difficult than boxing many solid objects, and a precise, specialized system had to be constructed to create the now-familiar lunch favorite.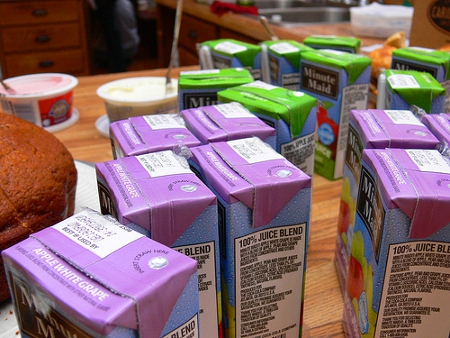 Six layers of paper, aluminum foil, and polyethylene make up a standard juice box, which efficiently keeps the sugary liquid inside and any contaminants outside. The boxes' shells must be assembled on special equipment. Different machines cut the individual boxes from long sleeves, fold them, and seal the bottoms before sending them to a sterilized room, where the juice, also sterilized through heat, is pumped in. The boxes are sealed and plastic straws are often attached. They are put into larger packages, and then the units are either stored or shipped to buyers, namely schools and grocery stores.
In creating food packages, engineers must consider cushioning, food safety and quality, shelf life extension, labeling regulations, ways to make a package tamper-proof, and recycling. Computer-aided design and robotics are now widely employed.
By learning abut packaging  early, Mawer says, students get a better understanding of the world around them and of the different ways engineering affects that world.
"Juice Boxes…" by Steven DePolo (Flickr Commons)
"Juice Boxing" by Greene/Ellis (Flickr Commons)
Filed under: Special Features
Tags: Curriculum, Engineering Design Process, Food Industry, Grades 6-8, Manufacturing Engineering, Materials Engineering