Posted on
October 29th, 2011
by Mary Lord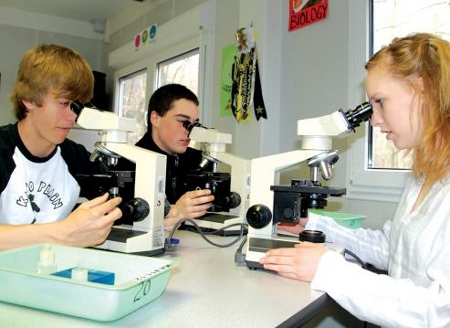 Can cash incentives boost student interest and achievement in science, technology, engineering, and math (STEM)? The U.S. Navy must think so, for it has signed onto a White House effort to support military families that includes the public-private National Math and Science Initiative (NMSI) which, among other things, pays bonuses for high scores on Advanced Placement exams, Education Week reports (10/27).
The Navy's move is part of a five-year plan to double its investment in STEM education at all levels — to more than $100 million. The Initiative for Military Families, part of the White House's "Joining Forces" program, would bring the NMSI model to schools the serve a large number of Department of Defense dependents. That model includes improving instruction by offering more AP courses, rewarding students and teachers for strong performance, and providing lab equipment, teacher training, and Saturday classes. The goal: increase participation in rigorous STEM courses at low-income, low-performing high schools with large minority enrollments.
"The AP test appears to be successful in improving a student's skills," Michael Kassner, a former professor of aerospace engineering at the University of Southern California who is now the director of research at the Office of Naval Research and head of the Navy's STEM office, told Education Week.  "And we thought NMSI looked like a good way to go."
One of the three pilot schools receiving $1.1 million in Navy funding to pursue the NMSI program is Green Run High School in Virginia Beach, where about a quarter of the 1,640 students come froe military families. Principal George Parker says many students "come in without all of the tools they need to succeed in an AP course." Military kids also have high mobility rates. As a result, the school has posted fairly poor scores on AP math and science courses.  But Parker says that the cash incentives — students receive $100 for each math, science, and English AP test on which they score at least a 3 on a 5-point scale, and teachers earn $100 for every successful student, with the possibility of bonuses up to $3,000 for increasing AP participation — isn't the real objective.
Kassner says the Navy is open to funding many more schools if the initiative proves effective. NMSI's track record so far seems promising. According to the program, the number of minority and female students passing AP tests at 228 NMSI-sponsored schools this year increased four to 10 times faster than for the country as a whole. However, cash incentives remain an unproven and controversial concept, and there's little research to show the program can deliver the STEM talent that the U.S. Navy and many other employers need.
Read the ASEE Prism magazine article about NMSI from April 2009.
Filed under: K-12 Education News
Tags: Advanced Placement, cash incentives, Joining Forces, military families, National Math and Science Initiative, U.S. Navy