Posted on
May 21st, 2016
by Mary Lord
The Maker Movement is picking up worldwide steam, fueled by adults' desires to get their hands dirty as they did in childhood. The White House and Congress are hosting Maker Faires for during National Week of Making June 17 to 23, while European Maker Week will feature dozens of events from FabLabs to stool-making workshops.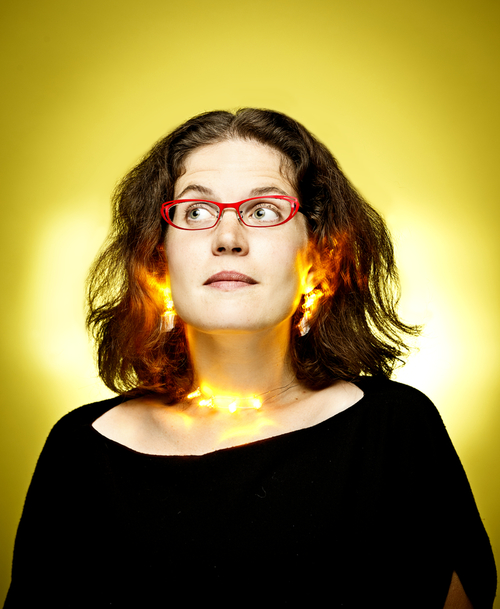 The fact that it's spread to schools and libraries, then, is unsurprising. Kids love to tinker, play, and revel in the unknown. And they were front and center at every booth at New York's 2013 Maker Faire, the New York Times reported.
That's why, on Sunday, June 26, ASEE will host an interactive workshop on Teaching Engineering through Making on the second day of our annual K-12 Workshop. Held this year in New Orleans, just before the start of ASEE's Annual Conference, the workshop is a results-oriented, interactive program of professional learning for precollege teachers.
What is the Maker Movement in schools, and how does it differ from shop and home economics classes of yore? According to AnnMarie Thomas (photo), it's more about the process, joy, and community of making (and makers)—and less about grades and gender roles. Thomas is an associate professor in the University St. Thomas's School of Engineering and author of Making Makers: Kids, Tools, and the Future of Innovation. Her office is filled with play dough, circuits, and blinking LEDs, and all of her classes involve heavy elements of fun. (See her Squishy Circuits eGFI Teachers activity.) The point, she says, is to take the joy of design and making things and add the rigors of science, math, and analysis early on—that's what makes engineers. (See her TED Talk.)
June's workshop will feature presentations by Thomas about teaching creative circuitry (elementary electrical projects using play dough, drawing, and sewing) as well as "An Introduction to the Maker Movement and a Maker Mindset." Co-presented with Deb Besser, the director of the University of St. Thomas's Center for Engineering Education, this will help educators learn the fundamentals of what makes a Maker and how to encourage that mindset (curiosity, playfulness, openness to risk, responsibility, persistence, resourcefulness, generosity, and optimism) in students.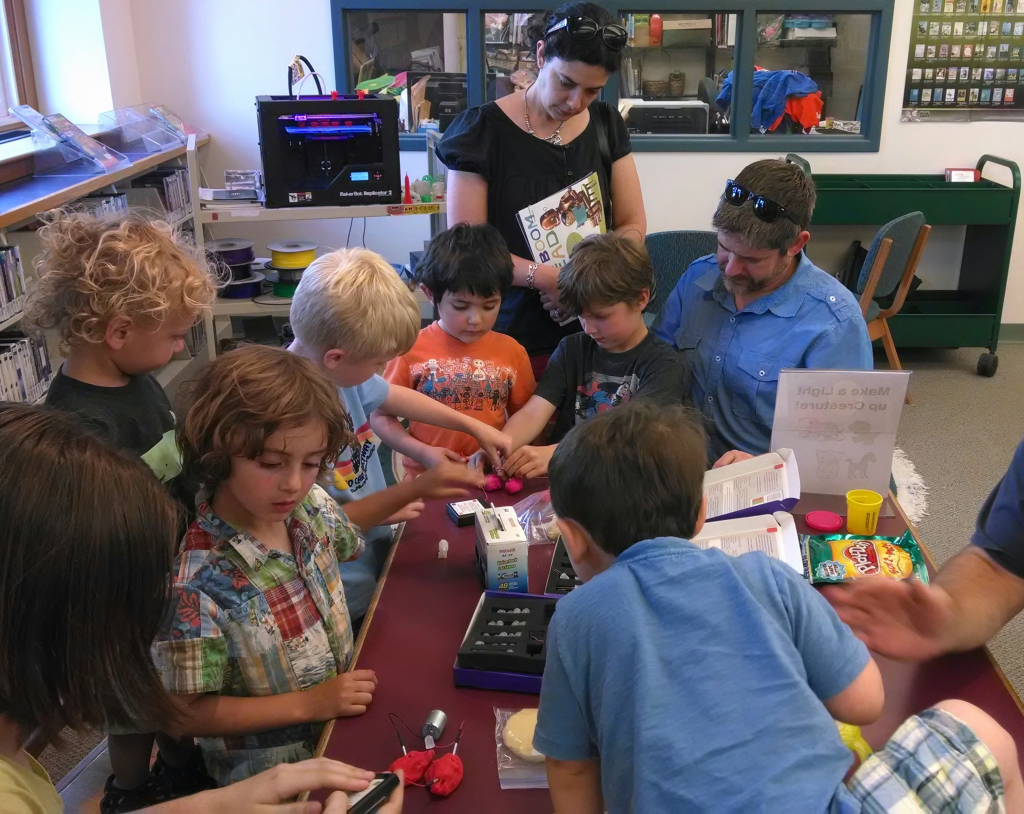 Photo: Maker Corps activity at the Keene, NH, public library.
Shaunna Smith, an assistant professor of educational technology at Texas State University, will also present making and digital fabrication techniques for K-12 teachers in an interactive session. She hopes the teachers will walk out with easy, low-cost and "no-tech" ideas for introducing making into the classroom.
Smith and Thomas both are adamant about one thing: Makers don't have to have high-tech labs to be successful.  "It's my life's mission to make sure that people don't feel like they have to have expensive tools in order to have a maker space or to do making activities," says Smith. "People have been making for thousands upon thousands of years."
"It's not all about 3D printers," adds Thomas. "Some schools get 3D printers thinking that they have to do it to be on the cutting edge—but then they don't know what to do with them! Maker spaces can happen with cardboard and duct tape and sewing machines, and they aren't lesser for that."
Jenn Pocock is Associate Editor of ASEE's Prism magazine. This article was adapted from her article appeared in the summer 2016 issue.
Filed under: K-12 Outreach Programs, Special Features
Tags: AnnMarie Thomas, ASEE K-12 Workshop, creativity, low-tech, making, Squishy Circuits