Posted on
June 7th, 2010
by ASEE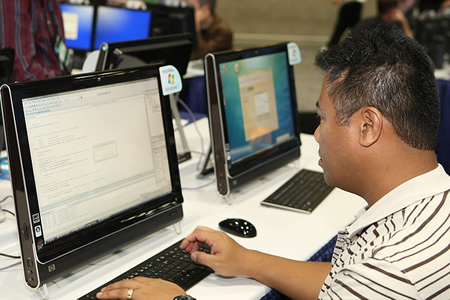 Taking a virtual playground approach to bolstering STEM education, IT giant Hewlett-Packard is spending $1 million on creating five "sandboxes of innovation."  It's  part of HP's Catalyst Initiative program to support STEM learning and faculty development, an international and interdisciplinary effort to develop a "cohesive, student-centered approach" to STEM education, according to T.H.E. Journal.
Each "sandbox" will be a consortium comprising secondary schools, colleges and universities, and nonprofit educational groups. And each will tackle one STEM issue. For instance, a consortium led by Carnegie Mellon University will seek to develop better methods to assess STEM competencies. Pedagog 3.0, led by Futurelab of the U.K., will focus on the preparation and training of K-12 teachers, with a goal of recruiting and retaining more STEM instructors. Another sandbox, called Global Collaboratory, will be led by South Africa's CSIR Meraka Institute, and will look at ways students can tackle social challenges using "collaborative grid computing." T.H.E. Journal quotes HP as saying: "What's needed is fresh thinking about STEM education that addresses important new disciplines in an interdisciplinary way, emphasizes creative and global collaboration skills, and puts student empowerment at its core." Or to quote the title of an old Barbra Steisand movie: Up the Sandbox.
Schools interested in joining a consortium can still apply through the end of June, and should check the Catalyst Initiative Website for further information.
Filed under: K-12 Education News