Posted on
October 11th, 2010
by Jaimie Schock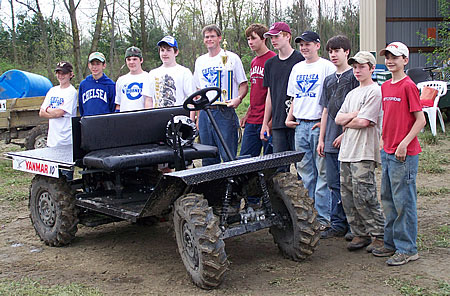 Brian Copes (center) and his students with their Basic Utility Vehicle (BUV)
Students at Calera High School are ready to take on the world.
This wasn't the case at the rural Alabama school a few years ago, when, for many, inspiration was hard to come by. But with help from teacher Brian Copes, students have designed a tool to fight poverty in developing countries: simple, inexpensive utility vehicles that can be shipped in pieces and easily assembled.
Copes, a 16-year teaching veteran, began modeling his classroom after the popular Discovery Channel TV series Monster Garage four years ago. He rolled in a 1997 EZ-GO golf cart and challenged his students to transform it into a mud-loving monster all-terrain vehicle. Like the TV series, the students had to videotape their project to document their work.
Over the next few years, Copes dared his students to not just modify an existing cart, but to build one from scratch. They developed a vehicle, called "The Eagle," that can be disassembled for shipping and then reassembled with simple hand tools. This method, if fully implemented, would allow people in remote locations around the world to assemble and use these vehicles to transport produce and other goods to and from the marketplace.
Copes says that since starting this project, he has seen students who formerly hated school put in extra hours. They've also developed leadership skills, he says, and have learned teamwork, mechanics, engineering, welding, design, internet technology, how to conduct research, and problem solving. "It was about building the students," he says. "This is my true success as an educator."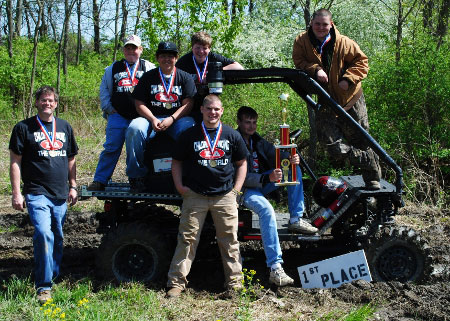 Brian Copes (left) and his students with their award-winning BUV
Back when Copes taught at Chelsea Middle School, his eighth grade Career Discovery class competed in the Basic Utility Vehicle (BUV) competition. They placed first in the open class in 2007 and both first and second place in 2008. In 2009, his Principals of Engineering course at Calera placed first in their class, received the highest score of the BUV competition, and won the "most innovative" award. In 2010, another team from Calera repeated the first-in-class victory.
This year, their creation, which cost about $5,000-$6,000, mostly for the engine and transmission, was entered in a collegiate engineering design competition (winners not yet announced) in Indianapolis. The contest is sponsored by the Institute for Affordable Transportation, which has the goal of developing an inexpensive vehicle that can be marketed in developing countries
Copes's students have, in fact, designed a complete product line: the basic utility vehicle, a people transporter-bus, an ambulance, and a 4X4 truck. "These students are on the fast track of changing the world," boasts Copes.
Copes and James Chambliss, president and founder of Magnolialand Entertainment, have been working together on preparations for filming a documentary called "Children Changing the World." The intent is to show Copes's students building the vehicles and demonstrating to farmers in a developing country, such as Nicaragua, how to assemble and use them. To date, more than 200 business partners have offered vehicle parts, financial donations, and technical support.
Watch the documentary trailer:
Filed under: Special Features
Tags: Cars, Competitions for Students, Entertainment, Mechanical engineering