Posted on
February 22nd, 2016
by Mary Lord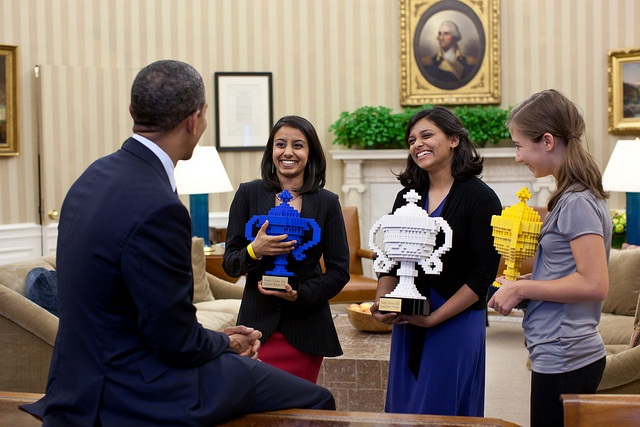 President Obama congratulates 2011 Google Science Fair winners Naomi Shah, Shree Bose, and Lauren Hodge. (Official White House photo by Pete Souza.)
The sixth annual Google Science Fair got underway Feb.  21, offering students between 13 and 18 a chance to compete for $100,000 in scholarships, a trip to the Galapagos, and a first-hand look at Virgin Galactic's latest spacecraft – among other prizes.
Teachers and mentors play a huge role in the Google Science Fair, and there's a site with lesson plans an other resources to help engage their students. There's also a $5,000 Inspiring Educator award for one teacher who "goes above and beyond" to encourage students to "achieve great things," and a Community Impact Award honoring a project that addresses an environmental or health challenge. The 2015 winner, Aydan Meydan, teaches science
Projects can come from across all scientific fields, including biology, computer science, and anthropology. The deadline  to submit projects online is MAY 18, 2016, with regional and global winners announced over the summer.
Run with Lego Education, National Geographic, Scientific American, and Virgin Galactic, the contest has produced some impressive past finalists, including one teen who created a flashlight powered by heat from the user's palm on the handle.
Click HERE to read the 2016 frequently asked questions.
Filed under: Competitions and Contests
Tags: Competitions for Students, Contest, Google Science Fair 2016, Grades 6-8, Grades 9-12, Web Resources