Posted on
December 7th, 2009
by Jaimie Schock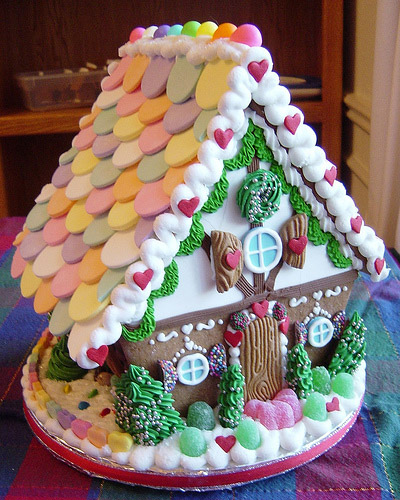 (This activity is drawn from several sources. The recipe is by Karen Haigh and was included in an article in The Ottawa Citizen. Other information came from Janet D. Stemwedel, who teaches the philosophy of science at San Jose State University, and Flickr.com)
What does a load-bearing wall have to do with holiday treats? Plenty, when the wall is holding up the roof of a gingerbread house. This combination recipe and building activity introduces kids to some of the fundamentals of engineering design and construction, including strength of materials, weight, stress and adhesives.
Overview
This activity can be tailored to suit any grade level, though grades K-5 may enjoy it the most. Older students would take a more hands-on approach and learn architectural, math, and physics concepts such as weight distribution, geometric efficiency in construction, fractions, unit conversions, the science behind baking, measuring for area/width/height, etc. Younger kids can still learn what shapes work best in building the houses, the importance of gluing the walls together properly, and what happens when the walls are too tall, too short, too thick, and too thin.
In preparation, read about two engineering students at the University of British Columbia who tested the structural strength of gingerbread and what they found.
Since making a gingerbread house brings people together, this is also a great activity to do at home. Children are likely to learn many things from the project, and, the best part about it is eating it afterward!
In this exercise, it is important to keep in mind that (1.) it will take all weekend or three days of class time, and it will be messy, (2.) patience is needed, as accidents may happen, and (3.) having everything ready before starting is a must.
Materials
* a pattern
* one batch of gingerbread dough
* four to five batches of icing glue
* cookie sheets
* aluminum foil
* room temperature butter
* flour
* rolling pin
* knives
* spatula
* cooling racks
* a plywood base or other surface on which to put the house
* six unopened soda/pop cans (to hold up the roof while the icing dries)
* pastry bags and tips (if you don't have them, use a knife and spread the icing)
* lots of candies (lifesavers make good stained glass windows, ginger snaps make great shingles, scroll down for more ideas)
The Pattern
Cut from paper the following:
Roof: 2 rectangles, 7 inches by 11 inches
Side walls: 2 rectangles, 5″x8″
Front and Back: base 5″, total height 9″. Cut door from front.
Chimney: (optional) 1″ wide.
Dough Procedure

(Day 1)
* 1 cup butter at room temperature
* 1 3/4 cups brown sugar
* 1 1/4 cups white sugar
* 2 tablespoons molasses
* 6 eggs
* 6 cups all-purpose flour
* 2 teaspoons baking soda
* 1 tablespoon ground ginger
* 1 tablespoon ground cinnamon
* 1 tablespoon allspice
Line several cookie sheets with aluminum foil and butter and flour the foil. In a large bowl, cream the butter and sugars. Beat in the molasses and eggs.
In another large bowl, sift dry ingredients. Combine mixtures and knead into a smooth ball. Cover and refrigerate for at least 30 minutes.
On a well-floured surface, roll out a small amount of the dough until it's 1/4 inch thick. Place one of the paper pattern pieces on the dough and cut around the edges. Gently, using the spatula, lift the dough and place it on the prepared cookie sheet.
Put all scraps into a bowl and cover. Save these for the kids to play with, or to make gingerbread men.
To make windows and the door: Cut out a rectangle from the appropriate side. Cut the window in half to make shutters. Fill empty window holes with crushed life-savers to form stained glass windows.
To make the chimney: Cut out a rectangle big enough to hold all pieces of the chimney. When the baked dough is still warm and soft, lay the pattern on top and cut out the pieces.
Preheat the oven to 325 F. Bake 15-20 minutes or until slightly firm. Let cool on racks until firm enough to handle. Peel the foil off the sections and set the pieces aside to dry thoroughly overnight.
Icing Glue Procedure
(Day 2)
This recipe is for a single batch. You will probably need several, but if you make them all at once, keep them in separate bowls: it dries very quickly and is like cement. Keep it well covered: one piece of saran wrap touching the icing itself and another on the bowl.
* 3 egg whites
* 1 1/2 teaspoons cream of tartar
* 3 – 3 1/2 cups icing sugar
In a large bowl, beat the egg whites until they begin to foam. Add the cream of tartar and beat until the whites are stiff but not dry. Gradually beat in the icing sugar, beating for about 5 minutes until it reaches spreading consistency. Keep it covered and refrigerated until needed.
Assembly
(Day 2)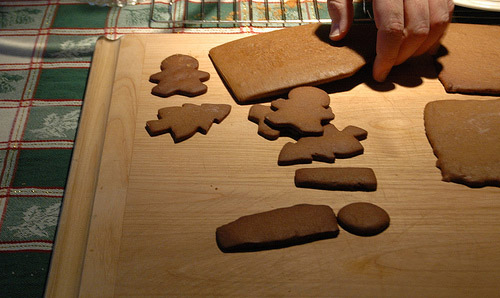 Cover the plywood base with aluminum foil. Pipe (or spread with a knife) two straight lines of glue at a 90 degree angle from each other: one for a side wall and another for an end wall. Pipe glue on the side wall where it will meet the end wall. Place walls on base, touching each other. Hold them in place until they are dry enough to stand on their own (about 15 minutes, and you can use those soda cans as support).
Repeat with the remaining two walls, running a line of icing glue along the corners so that all the walls are glued together. Again hold walls in place until the glue is dry.
Let the roof-less house dry at least 30 minutes until the icing is firmly set.
This next part means hands-off for smaller children!
Find an extra pair of hands. Pipe a lot of icing along the tops of all the walls. Run a thick line along one long side of a roof. Stick the two roof sections together at an angle and sit the two pieces on top of the house. Make sure that the roof overhang is the same at both ends of the house.
Hold the roof gently in place until it dries (the soda cans should be the right height to support them). Let the house dry for half an hour.
While the roof is drying, attach the door to the doorway by running a line of icing glue down one side and along the base. Make sure the door is open wide enough to slide a small flashlight inside later (so you can appreciate the stained glass windows). To attach the chimney: on one side of the roof near the peak, glue one angled piece to the roof. Glue the largest rectangle to the angled piece, then glue the second angled piece in place. Lastly, if there's room, glue the smallest rectangle to the other sections. Hide any mistakes under a "snow" of icing.
Let the house dry until completely solid, preferably overnight.
Decorating
(Day 3)
Remove the soda cans. Attach shutters to the windows. Decorate by gluing candy and cookies to the house with icing.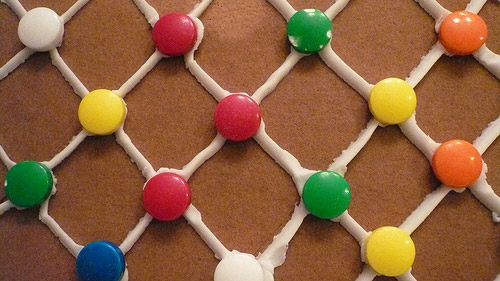 Some Neat Extras for Experimenting
Try using Necco ® Wafers as roof shingles or for a stone pathway. Choose candy and cookies based on their shapes as well as their colors. Which candies look like bricks? Try finding some holiday cookies to decorate the house and yard. Don't forget about snow (could be marshmallows, coconut flakes, icing or something else creative) and trees (tree shaped marshmallow Peeps ® or homemade tree-shaped cookies, perhaps?)
Shredded wheat makes great hay bales and thatch roofing. Pretzel rods and candy canes can provide extra roof support. Chocolate covered pretzels are elegant fences. Also, keep a lookout for candy that looks like pebbles and stones.
Don't have time to cook? Supplement gingerbread with cinnamon graham crackers for easier experimentation. You could also try melted chocolate as the glue for your walls and roof. (Bonus: how does using different materials affect the stability of the house?)
Gingerbread House (main) by SassyBeautimus (Flickr Commons)
Gingerbread House (under construction) by Akarmy (Flickr Commons)
Gingerbread House (detail) by DNAMichaud (Flickr Commons)
Filed under: Class Activities, Grades 6-8, Grades K-5, Lesson Plans
Tags: Architectural, Class Activities, festive