Posted on
May 30th, 2017
by Mary Lord
Like many areas along the New Jersey shore, Gandy's Beach in the upper Delaware Bay was devastated by Hurricane Sandy in 2012.
The solution? Engage school communities in a real-world restoration project: Building a living reef from bags of discarded oyster shells to protect both oyster beds and shoreline from future storm damage.
The effort, a partnership between Project PORTS (Promoting Oyster Restoration Through Schools), the U.S. Fish and Wildlife Service, and the Nature Conservency, is described in this 2015 blog post by Margie Brenner of the the USFWS's Northeast office and this 2016 follow-up post by Hope Kelley in 2016.

Project PORTS is an education and community-based oyster restoration program run out of Rutgers University's Haskin Shellfish Research Laboratory. Since 2007, it has worked with student volunteers to construct a living oyster reef of more than 5 acres about a mile offshore.  In 2013, the U.S. Fish and Wildlife Service was awarded nearly $900,000 from Hurricane Sandy resilience funds for a Gandy's Beach shoreline protection project to improve the ability of the beach to withstand future storm surges and coastal erosion while helping to stabilize the decreasing oyster population.  The work included a partnership with Project PORTS and the Nature Conservancy to involve local students in filling 15,000 bags with oyster shells. Hundreds of volunteers then placed  the bags in the water just off Gandy's Beach in the oyster reef breakwater project.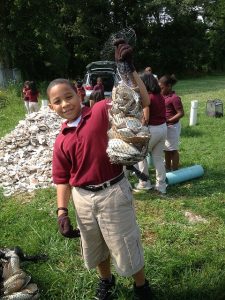 As of 2015, when the effort began, the reef was providing a habitat for more than 20 million oysters, according to Jenny Paterno, the project leader for Project PORTS. The oyster reef structure, she explained, "will serve to slow down wave energy and reduce erosional forces while providing enhanced habitat for oysters, ribbed mussels, and a suite of other species."
Gandy's Beach has lost an estimated 500 feet of shoreline since 1930, and local communities experienced increased flooding during high tide events and major storms due to the reduction of surrounding salt marsh and beach buffers.
Katie Conrad, a fish and wildlife biologist at the Service's New Jersey Field Office and project leader, said the work will construct nearshore oyster reef breakwaters along high energy shoreline, coir biolog living shoreline (logs of coconut fiber wrapped in mesh) on low energy sites, and hybrid living shoreline that uses both techniques in one location. "This will help stabilize approximately 3,000 feet of beach and tidal marsh shoreline, and ongoing monitoring will measure how well the oysters recruit on the different structures, so future restoration projects can benefit from what we have learned," says Conrad.
A student at West Avenue School  in Bridgeton, N.J. proudly shows off a shell bag built for the Gandy's Beach oyster reef. Credit: Project PORTS staff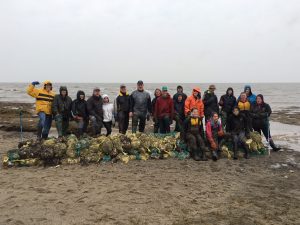 The materials used to create the shell bags are locally-sourced and New Jersey native. Project partner the Nature Conservancy collects clam and oyster shells from restaurants during scheduled weekly pickups in Atlantic City, and also receives donated surf clam shells from a local processing plant in Millville, New Jersey. The mollusk shells are then "cured" and distributed to schools where students construct the bags. Project PORTS works with over ten schools per year, primarily local students from Cumberland County, New Jersey.
The benefits of these living shorelines are three-fold: they help prevent erosion for wildlife and public recreational use; buffer coastal communities against impacts of future storms; and provide habitat for underwater species in the face of climate change and sea-level rise.
Filed under: K-12 Education News, K-12 Outreach Programs, Special Features
Tags: beach restoration, citizen engineering, Civil Engineering, Environmental Engineering, Environmental science, Hurricane Sandy, living reef, National Fish and Wildlife Service, Nature Conservency, oyster beds, Programs for Students, Project PORTS, resilence, Rutgers University