Posted on
May 22nd, 2011
by Mary Lord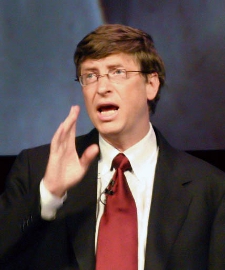 This spring, a handful of outspoken teachers helped persuade Indiana lawmakers to eliminate seniority-based layoff policies. They wrote briefing papers, published an op-ed article in the Indianapolis Star, and testified before the legislature. These were not just ordinary classroom teachers, however, but members of Teach Plus, a national grass-roots education advocacy group "financed significantly" by the Bill and Melinda Gates Foundation, the New York Times (5/21) reported.
For years, the Gates foundation's educational philanthropy has focused on breaking up large high schools and promoting small schools. The new strategy, according to the New York Times article, aims to overhaul the nation's education policies. To that end, the foundation is financing educators to pose alternatives to union seniority systems and support the use of student test scores to evaluate teachers.
In some cases, Mr. Gates is creating entirely new advocacy groups. The foundation is also paying Harvard-trained data specialists to work inside school districts, not only to crunch numbers but also to change practices. It also is bankrolling many of the Washington analysts who interpret education issues for journalists and giving grants to some media organizations.
"We've learned that school-level investments aren't enough to drive systemic changes," the article quoted Allan C. Golston, president of the foundation's United States program as saying. "The importance of advocacy has gotten clearer and clearer." In 2009, the latest year for which tax returns are available, the foundation spent $373 million on education, with $78 million devoted to advocacy. That is four times the amount spent on advocacy in 2005. Over the next five or six years, the foundation expects to pour $3.5 billion more into education, up to 15 percent of it on advocacy.
Filed under: K-12 Education News
Tags: Corporations, Education Policy, Organizations, Public Policy