Posted on
February 8th, 2011
by Mary Lord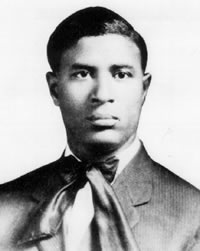 Ever wonder what driving would be like without traffic signals? Garrett Augustus Morgan, Sr., did. Driving through Cleveland, Ohio, where he owned a prosperous sewing machine repair and tailoring business, the Kentucky-born son of slaves was keenly aware of the danger of collisions, which had been a problem almost as soon as the first automobiles began rolling out of Henry Ford's plants at the beginning of the century. 
Morgan's traffic-management system, a T-shaped pole with three positions, was awarded a patent in 1923. The invention formed the basis for today's familiar stop lights and contributed to the development of what we now know as Intelligent Transportation Systems.
The traffic signal was hardly Morgan's only innovation. A respected businessman who built a sewing equipment and repair shop into an enterprise that included a tailoring shop with 32 employees, he developed the gas mask.
Shortly before his death in 1963, Morgan was awarded a citation for the traffic signal by the U.S. Government.
Read more about Garrett Morgan and his two signature inventions.
Filed under: Special Features
Tags: African-American engineers, African-American history, African-American Inventors, Engineering in History, History, Minority Group Engineers