Posted on
March 13th, 2011
by Jaimie Schock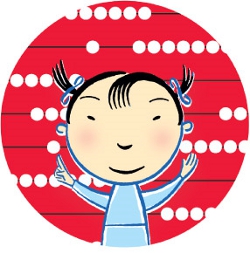 Back to the future: Despite the country's prowess in technology, Japanese math classrooms use abacuses to cultivate thinking. — A cover story from the Feburary 2011 issue of Prism magazine by Lucille Craft.
Forget graphing calculators. The hottest tool for learning math in this high-tech powerhouse is a relic from Japan's preindustrial past: the venerable abacus. At a time when ubiquitous digital devices are blamed for making people "dumber," the world's original calculating device, known as the soroban, is more essential than ever, advocates contend. "When you do all your figuring on a computer or calculator, the process of calculation becomes a 'black box,'" says Hiroshi Nakayama, director of the League of Japan Abacus Associations. "But with the soroban, number crunching takes place right before your eyes."
Or, more precisely, behind them. The true measure of a soroban student is not merely being able to flip through arithmetic problems quickly and efficiently but acquiring a secondary skill known as anzan — moving those beads mentally, without the assist of a physical tool. "Anzan enables you to visualize the beads in your head," says Hanaka Iwai, a soroban instructor in suburban Tokyo. "So even if you don't have a soroban handy, you can literally carry the device in your brain."
Parents are flocking to enroll their kids in extracurricular programs like the one Iwai and her sister, Haruka, run out of a tiny storefront.
On a recent Saturday afternoon, the pleasantly ramshackle classroom full of long, low-slung desks bursts with second and third graders brandishing grownup-size sorobans; these can handle numbers up to 23 digits long. A spell seemed to befall the children as Hanaka clicked her stopwatch. And then they were off! Flying thumbs and index fingers mimicked the act of manipulating beads as pupils mentally raced through addition lists of three-digit numbers, completing 10 problems in three minutes flat. Children are considered soroban-ready as soon as they can count to 10, though the sisters say the tool is so intuitive that a 4-year-old can get the hang of it within six months. The benefits of becoming a walking calculator were evident to second grader Mi Tsugiura. "I like it," he said. "I can help my mom figure out her change at the store."
Read more in the Prism article.
Filed under: Special Features
Tags: Japan, Math, Math teachers, Mathematics