Posted on
February 9th, 2018
by Mary Lord

Curt Tomasevicz likes to begin class by telling students about his educational background and what makes him qualified to teach engineering at his alma mater, the University of Nebraska, Lincoln. His credentials include a bachelor's and master's in electrical engineering and he's working on a Ph.D. in biological engineering.
Then he mentions spending 10 years on the U.S. national bobsled team and going to three Olympics –  a career that included pushing for the legendary Steven Holcom and winning gold as part of the "Night Train" four-man sled at the 2010 Vancouver Olympics.
"Sometimes I can kind of see some of them looking at each other like, 'Is he kidding?' They don't always completely believe me," Tomasevicz told TeamUSA News back in October.
Tomasevicz, 37, was always interested in math and science growing up and worked for an electrical engineer in high school. At Nebraska, he majored in engineering and he played football from 2000 to 2003 before joining the U.S. bobsled team in 2004. He ended his Olympic run with a bronze medal in the four-man competition at Sochi in 2014.
Moving back home to Nebraska, Tomasevicz gave motivational talks while contemplating his next career move. After speaking to students at the university's annual Engineers Week event about setting goals and living their dreams, a former professor approached and asked if he'd be interested in teaching a sports and engineering class. He's now leading a new Intro to Engineering: Athletics pilot program that combines sports, training, and engineering, the Omaha World-Herald reports. The course offers a window on the various disciplines – mechanical, biological, and electrical engineering – before students must choose a major.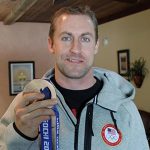 He puts  a lot of his Olympic champion's knowledge and experience into his lessons. When teaching physics concepts like momentum and conversion of energy, for example, he will "talk about curling stones and how when they collide with each other very little energy is wasted; it all goes into the collision itself and transfers into the movement of the other stone." Speed and acceleration include references to downhill skiing, bobsled, and skeleton, where gravity is the only real propulsion outside of the push. He's even had former bobsled engineer Bob Cuneo talk to the class by Skype about the process of designing a sled and all the challenges that engineers need to be able to solve.
So how does standing in front of a room full of college students compare to standing at the top of a bobsled track at the Olympics?
"Honestly, I think I get just as nervous — if not more so — teaching just because when you're competing you're not looking your audience in the eye," Tomasevicz, whose doctoral research involves optimizing in the university's Nebraska Athletic Performance Lab.  "They may still be judging you, but you've prepared so much for that moment that there's not much more you can do at that point. Interacting with students, I have to have that play between us I guess and go from there."

Filed under: Special Features
Tags: Bobsled, engineering teacher, gold medal, Kurt Tomasevicz, Olympic champion, Sochi, STEM education, vancouver