Posted on
September 27th, 2010
by Jaimie Schock
Hawthorne Students at Northrop Competition
Hawthorne Math and Science Academy in Los Angeles is challenging the notion that inner city schools are too beset with urban problems to succeed. And, it's doing so in part by responding to the anticipated need for engineers at major corporations.
Of the 600 students enrolled at Hawthorne, a public charter high school, 87 percent receive free or reduced-price lunch, a widely accepted sign of a low-income student body. Yet whereas big cities, on average, graduate only 53 percent of students on time, Hawthorne has a 97 percent graduation rate and is ranked among the top 100 high schools in the nation by U.S. News and World Report.
Each student must complete a total of 230 credits and 100 community service hours. Additionally, Hawthorne participates in a slew of corporate outreach programs, which teacher Charlie Flint, the school's science department head, says dramatically increase student motivation and excitement about science.
Every year, the school takes part in Engineers Week with Raytheon and Northrop Grumman. During a one-day event, Raytheon hosts an orientation with engineer speakers and a competition in which several schools partner up and work with an engineer to create a project. A few years ago, Hawthorne won the hovercraft competition. Other competitions include making a radio and a device to eavesdrop on conversations by picking up vibrations from a window.
The competition at Northrop is more involved, with the company sending out engineers to work with the students on their innovation challenge. The students collaborate with the engineers on a weekly basis for several months. Then, during Engineers Week, the students go to Northrop headquarters and compete. They also watch Northrop employees do presentations on their roles at Northrop and career possibilities for the students. The students then give a presentation on the projects they created. The competitions are followed by a short tour.
"It's all about future workforce development!" says Northrop Engineers Week program coordinator Carlo Cayetano. The goal is to reach students "who don't think of science and math careers as an option," as well as to "provide interesting opportunities to those who already know they want to be engineers," and might one day work at Northrop.
Last year, Hawthorne placed third in the Northrop competition to launch a small basketball about 50 meters to a target (their trebuchet launched it 80 meters). This past year, the students built a remote controlled plane. Northrop gives the school a small budget of $500 and materials to complete the tasks. "The interaction with the engineers is invaluable," says Flint, "and the students learn more about engineering than they will ever learn from any book."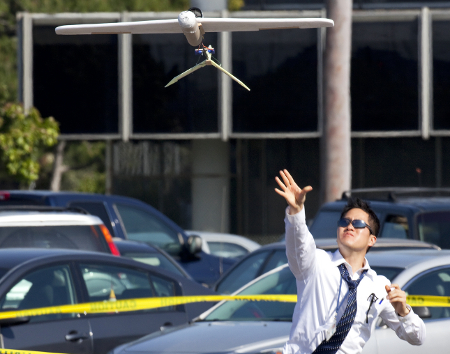 A Northrop Employee Tosses Hawthorne's Plane into the Air
Some key concepts learned: aerodynamics, electronics, design, teamwork, and more. Northrup also has an internship, the High School Involvement Partnership, which gives high school seniors exposure to a variety of technical and nontechnical careers at company sites.
When it comes to funding, Chevron alone has given more than $100,000 as part of a larger $7 million initiative to fund schools and educational programs. Over the last two years, British Petroleum has given two $10,000 grants, and allowed Flint control over the spending. Two years ago, with the grant money, Hawthorne conducted the Iridescent after-school program, where engineering students from local colleges worked after school with students to create renewable energy projects and competitions.
More recently, students used water to store solar and wind energy by pumping water up during the day to a higher pond and then retrieving the energy back when needed using a hydroelectric system. This past year, the group built a greenhouse and incorporated a hydroponic system as a secondary use of the water. The students got really excited about the process, says Flint, and they enjoyed working on the greenhouse.
Cayetano says the school-company connection works. More students are now thinking about STEM careers "and the popularity of our intern program is evidence of our success."
Filed under: Special Features
Tags: Competitions for Students, Corporations, Outreach for Schools