Posted on
November 6th, 2011
by Jaimie Schock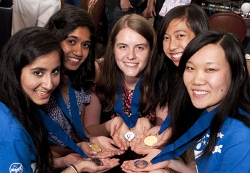 Deadline for Team Abstracts: Nov. 29, 2011
Registration Fee: None
This annual Spirit of Innovation Challenge from the Conrad Foundation invites high school student teams to use STEM skills to develop the products of tomorrow. Along the way, coaches, world-renowned scientists, engineers and entrepreneurs act as mentors to help turn their ideas into a reality.
This year, participants will develop a product idea centered around one of three product categories: Aerospace Exploration, Clean Energy, or Health and Nutrition.
Aerospace Exploration: This category encompasses any products with reasonable commercial opportunity in the aerospace industry – vehicles, spacesuits, planetary exploration, satellites, space medicine, Earth observation and more. The industry is ripe for new ideas.
Clean Energy: This category includes products or ideas that address energy efficiency; energy storage; solar, geothermal and wind energy; biomass fuels; as well as any other renewable energy solutions.
Health and Nutrition: This category challenges teams to create solutions that address growing more nutritious food with less water and land, creating better eating habits amongst youth and encouraging healthy lifestyles through products and innovations.
Eligibility
Entrant teams must consist of two to five students and have one team coach (adult supervisor) 18 years old or older. All team members must NOT have graduated high school before March 1, 2012. Students must be at least 13 years old at the time of registration and no older than 18. Students may compete in multiple categories. Each team coach must acknowledge that he/she has read and understands the terms and conditions set forth in the competition rules in order for the team to be eligible for any awards. The competition is open internationally; there are no geographic restrictions on eligibility.
Students who have competed in the past may compete again, so long as they still meet the above criteria, and must have made significant advancements or changes to a product, if they opt to submit an innovation similar to what was submitted in a previous year.
The Conrad Foundation reserves the right to disqualify a team at any point in the registration, submission, or judging process if the team does not meet one or more of these rules.
Submission
Each student must be registered on the Spirit of Innovation Challenge online community. Submissions must be entirely the work of the student team members. Team coaches may guide students, but may not do any writing of the submissions and may not have excessive influence on the concept design. (The determination of excessive influence is the sole discretion of the award management team.) Submissions must not copy or use other materials without properly citing the source. General entry, semi-finalist, and finalist teams are responsible for submitting required content on or before posted submission deadlines.
Semi-finalist teams must submit the Technical Concept Report, Business Plan, and Graphical Representation electronically via the Spirit of Innovation Awards submission portal in the online community. A team's submission will only be considered complete if all three files have been entered by the submission deadline.
For more information and to enter this contest, visit the program's website.
Filed under: Grades 9-12, K-12 Outreach Programs
Tags: Aerospace, Aerospace Engineering, Alternative Energy, Competitions for Students, Contest, Contests, Energy, Essay Competition, Essay Contest, food processing, Food safety, food-safety engineering, Green Technology, Health, Science Contest