Posted on
September 27th, 2010
by ASEE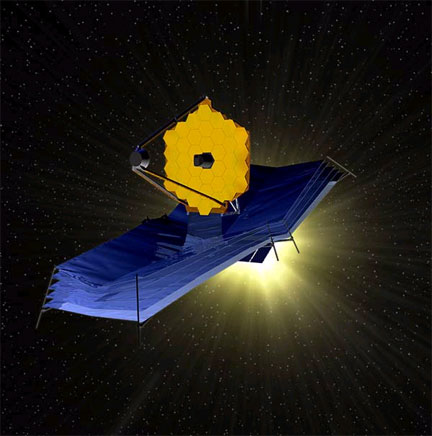 Submission deadline: December 15, 2010. Level: Grades 9-12.
RealWorld-InWorld NASA Engineering Design Challenge
The  RealWorld-InWorld NASA Engineering Design Challenge invites high-school-aged students work  as engineers and scientists to solve real-world problems related to the James Webb Space Telescope.
After exploring and designing solutions face-to-face in the RealWorld (Phase 1), interested teachers/coaches and teams of 3-5 high-school-aged students register to move InWorld (Phase 2) to continue working in a 3D virtual environment.
Participating college students build InWorld teams by selecting from registered teams and their teachers/coaches. Each team then chooses an engineering mentor. In this virtual world setting, each newly formed team uses 21st century-tools to refine designs and create 3D models of the Webb telescope. InWorld participation is limited to U.S. citizens.
The challenge:
The James Webb Space Telescope will look backwards in time, seeking clues to the origins of Earth and life in the Universe. There are many challenges to designing this telescope.
Students will try to answer one of these two questions relating to the Webb telescope:
How can you design a shield to protect the Webb telescope?
How can you deliver the Webb telescope to space using existing rocket technology?
Project Background:
The James Webb Space Telescope is the next generation deep space imaging system. Visit the Webb telescope home page to learn more about the science and technology behind this revolutionary telescope.
Getting Started:
Register online to view teacher resources, student-centered activities, and online tutorials.
Visit NIA Universe:
The RealWorld-InWorld Public Space is under development.  All registered users will be invited to preview this world as a tourist by August 15, 2010. As a tourist, you will not be able to build and interact in this setting, but you will be able tour and explore several NIA Universe Worlds. Once InWorld teams form, each member of the InWorld team will become a citizen in NIA Universe.  Citizens build and interact with other citizens in this virtual world setting.
Filed under: K-12 Outreach Programs
Tags: Grades 9-12, Science Contest, Telescope