Posted on
July 20th, 2010
by ASEE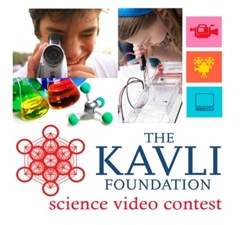 Extended Deadline: August 31, 2010. Level: Grades K-12.
The deadline for the Kavli Science Video Contest has been extended to August 31, 2010.  If you haven't already done so, encourage your students to take part!
Students K-12 are invited to enter the 2010 USA Science & Engineering Festival Kavli Science Video Contest with videos that are creative, surprising, and "contagious," capable of spreading science enthusiasm to others. Prizes include a screening on the National Mall, money  and possibly even a trip to the Science Expo in Washington D.C.
Videos might explore a scientific concept, show us the wonders of nature, give us a glimpse into the future, show us what scientific discovery has done for us in the past or will do for us in the future, introduce us to a great scientist or engineer, tell us why you think science is so cool or simply show us why we should care about science and/or engineering.
Do you think Science is cool? Do you want to share your passion for science with others? Here is your chance to inspire thousands of people to be more curious, and to care about science & engineering the way you do: create a short video that explores the question "Why is Science Cool?"
Sponsored by The Kavli Foundation and conducted in partnership with SciVee, the contest opens on April 1, 2010 and closes on July 15, 2010.
Prizes
Please note: All prize money to go towards science education at the students' school, home school network, after-school program, science club or any other organization the student is representing for the purpose of this contest. HD Camcorder and gift certificate(s) go directly to the student or student team.
The amount of travel stipend will vary based on location of the winner(s). The Kavli Foundation will present the winner(s) with their award check during a ceremony as part of the USA Science & Engineering Festival Expo on the National Mall on October 23 and 24, 2010.

1st prize: $1,000;plus $500 electronics gift certificate OR HD Camcorder (valued up to $500); plus a travel stipend to travel to Washington DC for the Expo.
2nd prize: $500, plus $250 electronics gift certificate
3rd prize: $250, plus $125 electronics gift certificate
People's Choice Award: $250
In addition, the winning videos will be screened during the USA Science & Engineering Festival Expo on the National Mall and at other key Festival events.
Requirements for the video:
be made for educational purposes
be in .mov or .wmv digital video format
be more than 30 seconds and less than 90 seconds long
be suitable for public display
does not violate copyright law (all material must be your original work)
is all done by you, the student, or by a team of students – yes, we are encouraging team videos!
How to enter:
1. Go to http://www.scivee.tv/uploadvideo and login to Scivee. You will need to register if you're not already a SciVee user.
2. Follow the video upload process:
Mark your entry as a "video only."
Give your video's title, a short description, and list its authors/producers
Choose the appropriate audience and subject areas.
3. When asked to enter "tags", make sure you put USASEF. You may also enter other tags.
4. Click "finish" to upload your video.
5. Return to the main page to submit your registration form (at the bottom of this page). On the registration form, you will be asked to enter the link to your video on SciVee, and the name of your file. You MUST submit a registration form through the USA Science & Engineering Festival website to enter for the contest.
6. Your registration form and video file must be submitted no later than 11:59pm EST on August 31, 2010.
For questions regarding the contest, please contact Stacy Jannis at jannisprods@earthlink.net This e-mail address is being protected from spambots. You need JavaScript enabled to view it
For technical issues please contact support@scivee.tv This e-mail address is being protected from spambots. You need JavaScript enabled to view it
Click here to review the OFFICIAL RULES
Filed under: Grades 6-8, Grades 9-12, Grades K-5, K-12 Outreach Programs
Tags: Contest