Posted on
March 8th, 2010
by ASEE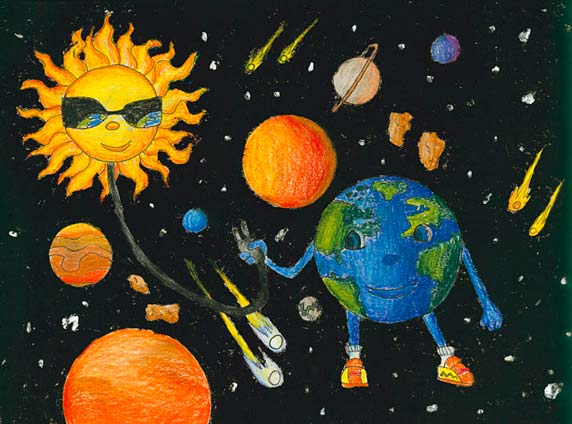 Eligibility and level: California students, grades 3 through 8. Prizes: $250 U.S. Savings Bond and copies of the Energy 2011 Calendar. Deadline: April 15, 2010.
Energy Quest 20100 Calendar Contest
The California Energy Commission invites  students to create award-winning artwork for the
2011 Energy Calendar
. All California students in grades three through eight are eligible to participate. Twelve entries will be chosen to illustrate the calendar for the year 2011. Your students may want to focus on climate change globally, think locally, or how using energy affects their daily lives. Take them on an "energy quest" by visiting the
Energy Commission's educational website — Energy Quest
.
Your class can use any of the pages on Energy Quest as subject material for their illustrations.
• Check out the Energy Story which shows all the different ways California produces power — from fossil fuels and nuclear, to renewable energy such as solar and wind.
• Read Devoured by the Dark then draw how three kids have an amazing adventure learning about energy.
• Want to illustrate conservation? Have your students check out Saving Energy.
Explore Alternative Fuel Vehicles and portray the future of transportation with innovative ideas like cars and buses powered by electricity and fuel cells.
• What's your carbon footprint and how can you reduce it?
EACH of the 12 selected artists will receive a $250 U.S. Savings Bond and copies of the Energy 2011 Calendar.
Every student who enters the contest will receive an Energy Quest certificate acknowledging their participation.
Teachers of each of the winning students will receive a cash award to purchase educational materials for their classroom.
For best results, students should not clutter their posters with too many pictures, words or designs that are difficult to see or read. PLEASE NO TITLES OR SLOGANS ON THE ARTWORK.
One entry per student! Group projects cannot be accepted.
Please tape — NOT GLUE — an original or photocopied ENTRY FORM on the back of each poster. Additional entry forms can be printed by downloading the contest flyer.
Please use manila drawing paper, white construction paper, art board or plain bond paper. Crayons, felt pens, poster paints, watercolors or grease pencils should be used. Avoid colored pencils and thin-lined, light-colored artwork — COLORFUL posters usually reproduce best. Pencil artwork does not reproduce.
Artwork should be HORIZONTAL, no larger than 16″ x 20″ or smaller than 8″ x 10″. For reproduction purposes, the recommended sizes are 8″ x 10″, 12″ x 15″ and 16″ x 20″.
Entries must be received (not postmarked!) by Thursday, April 15, 2010. Winners will be notified by May 1, 2010.
Artwork must be mailed to:
California Energy Commission
1516 Ninth Street, MS-29
Sacramento, California
95814-5512
Attention: Professor Quester
(Please indicate on the outside of the envelope the number of entries enclosed.)
Teachers: if you have questions, call Professor Quester at (916) 654-4989 or e-mail her at: pquester@energy.state.ca.us
To see samples of past years' calendar art, visit the Energy Quest Art Gallery.
Image: "Energy from the Sun, "by Vivien F.,  Grade 6, Fort Bragg Middle School, Mendocino. 2010 Energy Calendar.
Filed under: K-12 Outreach Programs
Tags: California Energy Commission, Contest, Grades 3-8, Wind Technology