Posted on
November 20th, 2010
by ASEE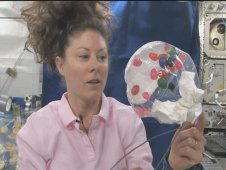 Level: Students in grades 5-8. Deadline: December 8, 2010.
NASA's Kids in Micro-g Design Challenge

The "Kids in Micro-g" student experiment design challenge for grades 5-8, is aimed at giving students a hands-on opportunity to design an experiment or simple demonstration that could be performed both in the classroom and by astronauts aboard the International Space Station.
A microgravity environment is one in which the apparent weight of a system is small compared to its actual weight due to gravity. The demonstration apparatus must be constructed using materials from a materials tool kit provided to the ISS astronauts. The tool kit must consist of materials commonly found in the classroom and used for science demonstrations. The experiment demonstration must take no more than 30 minutes to set up, run and take down.
Winners and runners-up will be selected by a panel consisting of microgravity scientists, ISS operations and NASA Education personnel along with classroom teachers. The national winner and five runners-up will have their experiments conducted on board the ISS in the March-May 2011. The experiments will be recorded in HD video and the winners supplied with copies of their video before the end of the school year.
This first Kids in Micro-g challenge was held in 2009-2010, with nine experiments  chosen as winners and operated on board the International Space Station from June through September 2010. For a look at two articles on experiments selected, click here. For a list of last year's winners, click here.
How to Enter
Experiment proposals may be submitted by adult teachers or educators on the behalf of their student groups. Proposals may be submitted via email during the period from Thursday, October 21, 2010, through Wednesday, December 8, 2010.
Please check the Website for Proposal Submission Requirements and downloads, as well as educational resources, references and links.
Questions
Please review the Frequently Asked Questions or contact the ISS Payloads Office at jsc-iss-payloads-helpline@mail.nasa.gov or  281-244-6187.
Filed under: K-12 Outreach Programs
Tags: Aerospace, Competitions for Students, Experiments, International Space Station, NASA