Posted on
December 4th, 2011
by Mary Lord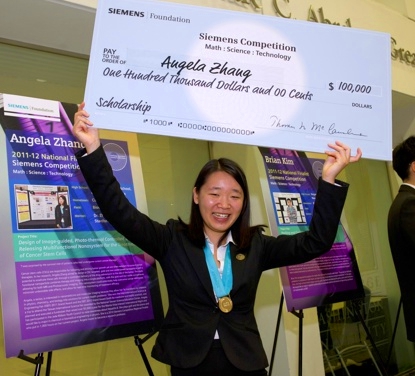 A high school student from California won a $100,000 scholarship for research that created a tiny particle she likened to a "Swiss army knife of cancer treatments" because of its precision in targeting cancer tumors, the Bellingham Herald reported. (12/6) Angela Zhang, 17, of Monta Vista High School in Cupertino, won top individual honors at the Siemens Foundation's annual high school science competition, which announced winners in Washington, D.C.
Six individuals and six teams competed for the awards, now in their 13th year.
Brian Kim, 17, a a senior at Stuyvesant High School in Manhattan, took home a second-place award with a project that used the mathematical concept of covering and packing, the New York Times reported. Kim also  placed in the individual category for math and won a $50,000 scholarship. Earlier, he explained his project to the Times' SchoolBook by comparing how cookies are placed on a tray.
Top team honors went to a pair of students from Oak Ridge, Tenn., for their research using gaming technology to analyze the motion involved in walking. Cassee Cain, who plans to study chemical engineering, and Ziyuan Liu, both 17, will share a $100,000 scholarship.
Angela Zhang, the only female individual finalist, said her research was in part motivated by her family. Her great grandfather had liver cancer and her grandfather died of lung cancer when she was in seventh grade.
Brian Kim said he would use the cash prize to help pay for college. Until then, he plans to continue competing in other math competitions. "It is definitely great to be recognized for what I'm doing," he told the Times. "I love what I'm doing, so it's a great feeling."
The competition is administered by the College Board. Watch highlights of the 2011 competition:
Filed under: K-12 Education News
Tags: Angela Zhang, Brian Kim, Cassee Cain, College Board, Competitions for Students, Scholarships and Fellowships, Science Fair, Siemens Competition, Siemens Foundation, Ziyuan Liu